New BMW X6 M50d 2014 review
Revamp ensures new BMW X6 is a more captivating all-round package than ever, but will it emulate its predecessor's success?
If you thought the previous BMW X6 was vulgar, then the new version isn't likely to change your mind. BMW has worked hard to improve its practicality, fuel consumption and dynamics, but while the X6 is more capable than ever, it still lacks any real excitement from behind the wheel – making it more of a status symbol than a true driver's car.
Love it or hate it, the BMW X6 coupé-SUV has been a huge hit. Over 255,000 first-generation models have been sold since 2008, which has forced Mercedes to jump on the bandwagon with the GLE Coupé – on sale early next year. So, has BMW reinvented its own niche with the Mk2 X6, or stuck to a tried and tested formula?
In terms of design, it's definitely more of the same. Larger, more upright kidney grilles, an X4-style drooping crease over the rear wheelarch and air-breather vents behind the front wheels are new to the X6, but the squat stance and coupé roofline remain. Not that its predecessor needed any beefing up, though – as it still has a colossal presence on the road.
However, inside BMW has taken its medicine and squeezed just about every drop of practicality out of the compromised cabin shape. There's leg and headroom to spare for normal-sized adults in the three-seater rear, while an automatic bootlid opens to reveal a 580-litre capacity. Folding the 40:20:40 split/fold rear seats expands it to 1,525 litres – 345 litres less than in the X5, but 75 litres up on the old X6.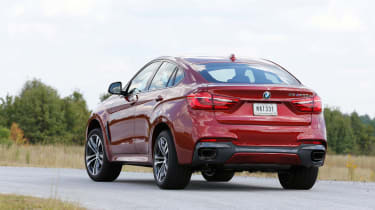 Our test car was the M50d – a halfway house between the standard model and the V8-powered X6 M that's still to come. Powered by a 376bhp 3.0-litre triple-turbo diesel engine, with a mighty 740Nm of torque, it has all the real-world performance you could ever need and still claims 42.8mpg – a 6.1mpg improvement on its predecessor.
It doesn't take long to realise that this isn't just one of the best diesel engines currently on sale, but one of the best engines full stop. The way it revs quickly and smoothly with immense torque on tap, regardless of which gear you're in, makes for devastatingly quick progress along a flowing back road.
When you want to cruise quietly, it burbles away in the background; and when you give it full throttle, it sounds like a muffled V8. It's complemented perfectly by the eight-speed auto box, too, which never gets flustered whether you're rifling through the gears in manual or leaving it to its own devices.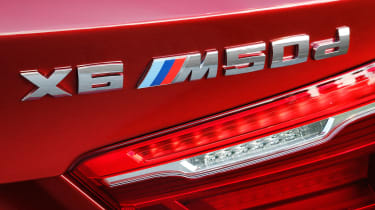 The X6 has always dazzled with its ability to handle like a car half its size, and BMW hasn't lost its touch. Dial it up through the various driving modes – Eco Pro, Comfort, Sport and Sport+ – and the car becomes progressively more responsive in your hands.
We'd recommend diving into the menus and configuring the Sport modes to keep the dampers in their softest setting – unless you're on a perfectly smooth surface, things can get a bit choppy. For the most part, the X6 wafts along, towering over traffic, but throw it left and right through a series of corners and it sticks resolutely to the road, changing direction with surprising agility and staying flatter than it has any right to.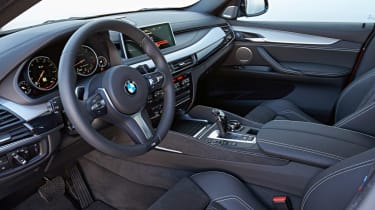 The steering doesn't deviate; the way it grips and goes at the exit of a tight corner is astonishing. The only real limit to the performance is imposed by the driver – a product of the nagging thought that this is a 2,185kg car.
The 30d is expected to account for a massive 80 per cent of X6 sales in the UK, but if you want a bit more speed, sidestep the £67,190 50i and splash an extra £10,000 on this M50d instead. Not just for that epic engine, but also for the Adaptive M suspension, sharper steering and stiffer air-suspension at the rear it brings as standard.