SUV range set for big shake-up as Mercedes plays name game
New strategy sees future SUVs wear GL badge, sports cars also set for naming revolution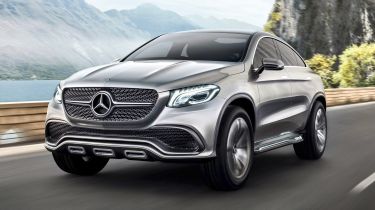 Mercedes is planning to shake up the naming structure of its SUV range, Auto Express has learned.
The idea behind the move is to streamline and simplify model line-ups so that they reflect the family of Mercedes road cars to which they belong.
The new badging was first used on the GLA compact SUV, and all future Mercedes SUVs will now follow suit, becoming GL models, with the final letter signifying which class they are connected with. The GLA, for example, is related to the A-Class.
Next in the pipeline for the brand is the GLK, which has never previously been sold here due to mechanical issues. However, the all-new model will arrive on these shores next year and is likely to be called the GLC, reflecting its relationship with the C-Class.
Also in the product plan are new versions of the flagship GL and the ML. These are expected to be badged GLS and GLE respectively, with the names representing their ties to the S-Class and E-Class families.
We also know that the Concept Coupé SUV – which Mercedes revealed at the Beijing Motor Show back in April to preview a new rival to the BMW X6 – is set to be called the GLE Coupé when it makes production.
While the new naming structure will initially be seen on Mercedes' SUV models, it's expected that the company will also tidy up its sports car ranges. The smallest roadster currently available is the SLK, but when the drop-top is refreshed it could be rebadged SLC.