New Audi RS Q5 to raise the fast SUV bar
Audi will expand its Q5 range upwards with a new RS Q5 packing the 444bhp twin turbo V6 from the RS5 coupe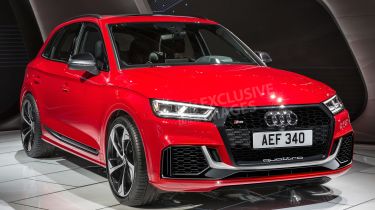 Audi isn't shy when it comes to performance SUVs. We've already seen the the RS Q3 add some serious pace to the lower end of its Q SUV range and and with an RS Q8 on the way to operate as a flagship, there's a conspicuous gap in the middle. That is, literally, where the new Audi RS Q5 comes in.
We won't have long to wait until the RS Q5 makes land-fall but in the meantime our exclusive image previews how the car could look. In the engine bay we expect to find the 2.9-litre twin-turbo V6 from the Audi RS5 Coupe with power being channeled to all four wheels via a quattro all-wheel-drive system, as is the Audi way.
• New Audi RS Q8 to head SUV range expansion
The Audi RS Q3 utilised the engine from the RS3 hot hatch but in detuned form so that it produced 335bhp against the RS3's 395bhp. Although it shares an engine with the RS5 Coupe, a similar reduction in power is not on the cards for the more premium RS Q5. It should make the same 444bhp as the RS5 Coupe.
The RS Q5 will inevitably be heavier than the RS5 Coupe it shares an engine with but a 0-62mph time well under 5 seconds seems likely. We'll also see a top speed limited to 155mph.
As the image suggests, we can expect the usual bold Audi RS styling treatment with sculpted air intakes, LED headlamps and large wheels shod with low profile tyres. Inside, the Audi Q5 interior with be raised up a notch or two with sports seats and steering wheel along with carbon fibre trim inserts and a high level of equipment as standard.
Rivals for the RS Q5 are plentiful, and it's expected that the performance SUV sector will expand further in the coming years, but alternatives that match the RS Q5's output are harder to come by. The hot Audi will primarily do battle with the new BMW X3 in 355bhp M40i guise and the Mercedes-AMG GLC 43 with its 362bhp performance. You'll need the Porsche Macan Turbo with the optional Performance Pack to get up to the 444bhp benchmark Audi will set with the RS Q5, though.
Read more on the Audi RS Q5 at our sister site Carbuyer
What do you make of the Audi RS Q5? Tell us in the comments area below!