Audi RS Q3 (2013-2016) review
Audi Q3 RS is the first crossover from Audi to get the RS badge
Find your Audi RS Q3
Offers from our trusted partners on this car and its predecessors...
Or are you looking to sell your car?
Advertisement
Crossovers are flavour of the month at the moment, and nowhere is this more true than at Audi. The brand now offers four true 4x4s from Q2 to Q7, with a range of rugged A4 and A6 Allroad estate models designed to fill the gaps between conventional estates and fully-blown SUVs.
Elsewhere, Audi is also introducing a range of hotter models, which currently include the S Q5 and S Q7, as well as the five-cylinder RS Q3. It's pretty unique in the market as it combines the blistering performance commonly associated with a hot hatchback and the style and practicalities of an SUV crossover.
Launched in 2013, the RS Q3 attracted just under 500 sales in 12 months – but in line with the Q3, Audi gave the hot SUV a visual facelift and power upgrade in 2014.
Changes were limited to the front-end – new lights and a '3D-effect Singleframe grille' – and rear-end – bumpers and taillights – while the throaty 2.5-litre five-cylinder engine was boosted from 306bhp to 335bhp. In 2016, an RS Q3 Performance model was added with an additional 27bhp, taking total output to a frankly absurd 362bhp.
The standard car will do 0-62mph time dropped to 4.8 seconds, while combined fuel economy stands at 32.8mpg, with CO2 emissions of 203g/km. Opt for the Performance model and you'll do 0-62mph in 4.4 seconds, with no adverse affect on running costs.
With figures like that, it's fair to say that both models are brisk. But the lofty driving position, large boot and plenty of space for four means that the RS Q3 has an extra dose of practicality compared to hot hatch rivals.
The Audi RS Q3 is a niche product. The concept of a true performance car seems at odds with the raised ride height and practical body, but a quick glance at the figures should ensure this spicy crossover isn't overlooked.
Launched in 2014, it came shortly after Audi facelifted the standard Q3 – and brought with it all that car's tweaks, nips and tucks. It's a stylish looking model, made all the more aggressive with the wide arches, big wheels and fat exhausts synonymous with Audi's most potent RS versions. There's only one bodystyle, but two variations of the same 2.5-litre five-cylinder engine. The standard model gets 335bhp and can sprint to 62mph in 4.8 seconds – but opt for the RS Q3 Performance version and power is upped to 362bhp, which makes the car good for 0-62mph in only 4.4 seconds.
All cars come with an S tronic dual-clutch automatic gearbox mated to quattro all-wheel drive. That means fast shifts and plenty of traction – with the single exhaust pipe creating plenty of aural drama on full-throttle upshifts. Its closest rival is arguably the Porsche Macan S, but that car is not only slower – it's also several thousand pounds cheaper. A Mercedes-AMG GLA 45 is just as quick, however.
Engines, performance and drive
The RS Q3 is super-quick in a straight line, but there's not much feedback from the steering.
At first it seems a little strange to climb up into an Audi SUV fitted with the RS brand's trademark flat-bottomed steering wheel. The Q3's slightly bus-like tilted wheel angle and high-mounted seat feel at odds with such a racy looking cabin.
Partnership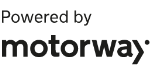 Need to sell your car?
Find your best offer from over 5,000+ dealers. It's that easy.
However, the lofty perch means excellent visibility and it doesn't take long to establish that this is a rather special Q3. For a start, it's powered by the same warbling 2.5-litre five-cylinder as the TT RS and previous-generation RS3. This astounding powerplant allows it to nearly match the performance of the Mercedes-AMG GLA 45 – sprinting from 0-62mph in just 4.8 seconds. Select the Performance model, and this drops to an impressive 4.4 seconds.
The low-down torque and sharp throttle response means the Q3 feels really rapid on the road. Fortunately, despite its raised body, it has the handling composure to deal with this kind of performance. 
The quattro all-wheel drive means traction is unsurprisingly good, but push too hard and you'll find understeer washes you wide on tighter bends. The steering lacks feel, but you can adjust the weighting via the Audi Drive Select system.
Elsewhere, lowered and stiffened suspension helps to provide good body control, but it can crash a little over rougher surfaces. There's also a fair amount of tyre roar on the motorway. A Porsche Macan appears more complete, but you'll never tire of the RS Q3's delightful exhaust note.
Engines
The RS Q3 is available with a single 2.5-litre five-cylinder turbocharged petrol engine. It's comes in two states or tune, however, with the standard model producing 335bhp and 450Nm of torque - allowing the SUV to sprint from 0-62mph in only 4.8 seconds. Opt for the RS Q3 Performance model and power is upped to 362bhp, with an extra 15Nm of torque (now 465Nm) - shaving four tenths off the benchmark sprint.
MPG, CO2 and Running Costs
Anything with an RS badge on the boot will cost more to run than normal, and the RS Q3 is no different.
Audi claims 32.8mpg for the RS Q3 – regardless of whether you choose the standard car or even faster Performance variant. This is thanks in part to its stop-start system, but whichever way you look at it, the RS Q3 will cost more to run than a run-of-the-mill TDI.
What's more, the frantic nature of the RS Q3 means you're more likely to explore its full performance potential, which will put you on first name terms with you local petrol station employees as fuel economy plummets. This will also have an adverse effect on brake pads, tyres and other consumables, which will need replacing more often.
Company car drivers face hefty tax costs, too. A high price tag and emissions of 203g/km mean high costs and sizeable BiK bills. It falls into VED band K, which results in annual road tax of £265. A 2.0-litre TDI quattro emits just 117g/km, which results in a yearly bill of only £30.
Insurance groups
The Audi RS Q3 is actually surprisingly affordable to insure. Sitting in group 37 might sound quite high (and it is) but compared to a Mercedes-AMG GLA 45 (group 44), it's not so bad. A Porsche Macan S is worse still, falling in to group 45.
For comparison, an entry-level Q3 sits in group 21 for insurance, while a range-topping Black Edition TDI commands a group 25 premium.
Depreciaiton
Superb residuals are a big plus for private buyers and, along with fixed-price servicing, help to make the RS Q3 an attractive buy. It'll retain 47 per cent of its value after three years and 36,000 miles, which is on a par with regular Q3 models. A Porsche Macan is better still, however, pipping the RS with predicted residuals of more than 50 per cent.
Interior, design and technology
Big wheels and an aggressive body kit, mean there's no mistaking the RS Q3 on the road.
The Q3 is the first Audi Q model to get the racy RS treatment, and features a strange mix of sensible crossover and glitzy performance car styling cues. Riding on huge wheels and sitting 25mm lower than a standard Q3, this model gets the full sporty Audi makeover, with chunky bumpers, a big air intake, matt aluminium finish mirrors and a single oval exhaust pipe.
The RS Q3 Performance adds red brake callipers and 20-inch alloy wheels, as well Titanium styling pack for the trim pieces. Visual differences are minimal, however, and you'd be hard pushed to tell the two apart side-by-side.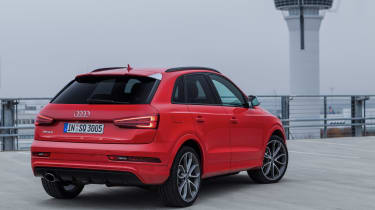 The end result won't suit all tastes, as the trademark RS Audi design cues look somewhat at odds with the shrunken SUV shape and proportions. Still, there's no denying that the RS Q3 attracts plenty of attention on the road.
There are lots of high-quality materials in the Q3 and the usual upmarket feel you'd expect in an Audi, so the interior is far less likely to divide opinion. Still, the sporty theme continues with RS dials, embossed sports seats, aluminium inlays and a racy flat-bottomed wheel. Plus, the information screen gets added functions like turbo boost pressure, oil temperature and a lap timer – not your usual premium crossover stuff.
The RS Q3 Performance gets carbon inlays with blue stitching, black leather and Alcantara seats and an LED interior light pack.
Sat-nav, stereo and infotainment
Few people will be disappointed with the top-quality cabin, but as one of the older models in the Audi range, the dash and navigation screen are dated compared to newer models like the A3. Still, the extra badging and a more aggressive look ensure everyone knows you're in a performance car.
Practicality, comfort and boot space
The beauty of the RS Q3 is that it's just as practical as the standard car.
The RS Q3's SUV looks are misleading. Despite sitting on a raised ride height, it's dinky dimensions mean the interior isn't that big. However, it's the same size inside the cabin as the standard Q3, and there's still enough room to carry four adults in comfort.
The 356-litre boot is decent enough, and folding the rear seats expands the available space to 1,261 litres. There's an optional through-load hatch, but the seats don't lie flat so it's not as practical as most of the class-leading small SUVs.
Although its suspension is 25mm lower than a regular Q3, the RS still has a high enough ride height to make it very easy to get in and out of, and to load the boot.
The Q3 does have quite a large transmission tunnel, though, so that compromises passenger room in the middle rear seat. If you regularly carry five people, we'd recommend stepping up to the Q5, or trying one of the Q3's better-proportioned rivals.
Size
Unsurprisingly, the RS Q3 fits the same mould as the standard Q3 - measuring 4,411mm long by 1,841mm wide. That's quite compact for an SUV, making it shorter than the Mercedes GLA (4,445mm) and Porsche Macan (4,681mm). While that makes it more manageable around town, it doesn't translate to a particularly practical interior.
Legroom, headroom and passenger space
Apart from the new Q2, the Q3 - and indeed RS Q3 - is one of Audi's smallest SUVs. For that reason, it's not the most spacious inside, but there is enough room to carry four in comfort.
Both the standard RS Q3 and the Performance variant have quattro all-wheel drive, so the bulky transmission tunnel required to send drive to the rear wheels takes up valuable legroom in the rear.
Boot
The RS Q3 gets a 362-litre boot, which is slightly smaller than you'll find on the normal Q3. It's still a usable shape and size, however, and the rear seats fold to uncover a larger load area. A Mercedes-AMG GLA 45 is bigger still, however, with a 481-litre boot capable of swallowing much more luggage. A Porsche Macan is better still - with a huge 500-litre load bay.
Reliability and Safety
Audis tend to be very reliable, and there's no reason why the high-performance RS Q3 would be any different.
Audi is well known for building high-quality products and the Q3 doesn't feel like an exception to that rule. Audi finished in a disappointing 21st place the Auto Express Driver Power poll for 2016, however. That puts the German carmaker behind both Mercedes and BMW, but ahead of parent company, VW.
Although it's one of Audi's older models, the Q3 still feels well built and engineered. Plus, the five-cylinder engine and quattro drivetrain are proven in other Audis.
The standard Q3 achieved a five-star Euro NCAP crash test rating, and has lots of safety kit. The options list includes everything from a Speed Limit Display to Active Lane Assist – a handy feature which maintains the car's position in its lane. And on the RS, Audi has included xenons, eight-piston ventilated brakes, parking sensors and an electric parking brake as standard.
Warranty
As with all new Audis, the RS Q3 comes with a three-year/60,000-mile warranty and three years' RAC breakdown cover. This should come in handy if anything goes wrong, but a strong reliability record should ensure worries are kept at bay. You can extend this guarantee for four or five years at an additional cost.
Servicing
The RS Q3 will need regular servicing, and depending on your mileage could qualify for Audi's clever flexible service schedule. It'll still require a service every two years or 19,000 miles, but depending on your driving habits could prevent you unnecessarily visiting your dealer for unwanted check-ups.
Which Is Best
Cheapest
Name

RS Q3 TFSI Quattro 5dr S Tronic

Gearbox type

Semi-auto

Price

£54,125
Most Economical
Name

RS Q3 TFSI Quattro 5dr S Tronic

Gearbox type

Semi-auto

Price

£54,125
Fastest
Name

RS Q3 TFSI Quattro 5dr S Tronic

Gearbox type

Semi-auto

Price

£54,125