Porsche emissions: 60,000 Macans and Cayennes recalled
Porsche to recall 53,000 diesel Macans and 6,750 diesel Cayennes in Europe at request of German motor authorities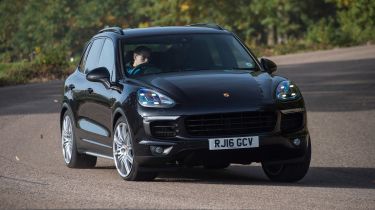 Porsche is recalling almost 60,000 diesel SUVs across Europe at the request of German authorities over concerns they could emit less nitrogen oxide (NOx) during laboratory testing compared to on-road assessments.
The recall affects the 3.0-litre V6 diesel Macan and 4.2-litre V8 diesel Cayenne, which both feature engines developed by Audi.
• VW emissions scandal: latest news
Germany's federal motor authority (KBA) made the request after the discovery of "inadmissible defeat devices", which could lead to increased NOx emissions during on-road driving compared to laboratory tests.
A Porsche spokesman explained that the company had "received recall notices from the German Federal Motor Transport Authority (KBA) affecting Cayenne 4.2-litre V8 diesel and Macan 3.0-litre V6 diesel vehicles", adding it had been in discussions with the KBA over the issues since March this year.
While Porsche was quick to say it "accepts full responsibility towards its customers", it pointed out it "does not develop or manufacture diesel engines itself".
Owners of affected vehicles will be contacted by Porsche dealers, and "a technical solution in the form of a software update" will be applied to their cars for free during a "short workshop visit".
Porsche does not currently offer any diesel models to UK buyers. A decline in sales caused it to pull the plug on the Macan S diesel earlier this year, while neither the latest Cayenne nor the Panamera is currently available with a diesel engine.
In July last year, German authorities reportedly found an emissions 'defeat device' in the the 3.0-litre diesel Porsche Cayenne, leading to a recall of 22,000 cars.
At the time, German transport minister Alexander Dobrindt said authorities would order Porsche to issue an obligatory recall for 22,000 Cayennes registered across Europe.
The device was found after tests carried out by transport authorities in Germany. A 'warm-up strategy' was triggered when cars were being tested, limiting emissions of nitrogen oxide. Emissions were said to be much higher when the car is on the road.
Dobrindt said: "There is no explanation as to why this software is in this car." The minister went on to explain that because the Cayenne comes with a modern emissions system that's capable of meeting the emissions standards, Porsche should be able to produce a modified software system quickly.
What do you think of Porsche's potential involvement in emissions manipulation? Tell us in the comments blow...