'Porsche ditching diesel is bad news for the car industry'
Car manufacturers are facing an uphill battle to convince customers that diesel has a future, says Graham Hope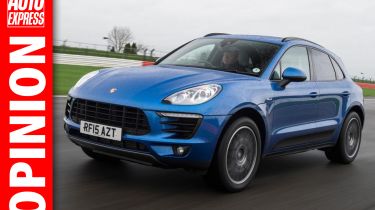 "There is no truth. There is only perception." A famous quote from the acclaimed French novelist Gustave Flaubert, and one I was reminded of again last week, when Porsche confirmed it would no longer sell diesel cars in its current line-up.
The German brand, part of the wider VW Group empire implicated in the Dieselgate scandal, has already launched its new Cayenne SUV with no diesel engine. There will be no more oil-burning Panameras, either, and the final Macan S diesel has now rolled off the production line.
It would appear that removing the latter from the line-up is linked to an "ongoing consultation with the authorities in relation to another software update". This suggests that Porsche has opted to axe the model rather than re-engineer it for assessment under new Worldwide Harmonised Light Vehicles Test Procedure (WLTP) emissions rules.
Does this all matter? Porsche issued an official statement that seemed to try hard to convince us that this is not a big deal. "Diesel engines traditionally play a subordinate role at Porsche. Porsche does not develop or build diesel engines itself. Currently, the demand for diesel models is falling, whereas interest in hybrid and petrol models is increasing significantly," we were told.
The brand then subsequently clarified its position by telling us that a diesel Cayenne would be offered in future, although tellingly it declined to say when. For Porsche in isolation, this probably all makes sense given the tightening restrictions on diesel and declining demand. That's the truth of the situation.
But for the wider car industry, I think it's bad news. As companies battle to try to convince customers diesel has a role to play, it's another negative headline to add to the fuel's ongoing toxification. And shifting that perception in the eyes of the public will be very hard indeed.
Now read about the UK's plan to ban petrol and diesel engines from 2040…