Porsche Macan Diesel S 2014 review
Porsche Macan Diesel S combines SUV styling and practicality with the dynamics of a Porsche sports car
When it comes to agility and fun from behind the wheel, the Porsche Macan Diesel leaves its rivals standing - the big surprise is that it doesn't come with any major compromises. Order the air suspension and it floats along serenely, or can be tightened up to tackle corners with remarkable poise. With so much torque this diesel model is seriously quick too, costs just a few hundred pounds more than the equivalent BMW X3 xDrive 30d M Sport and is quiet and economical to boot.
Whether Porsche is still a sports car manufacturer that makes SUVs and saloons on the side, or the other way around, is open to debate. One thing's for sure though, the arrival of the Macan on UK roads won't make things any clearer. Porsche's second, smaller SUV has been designed to combine a compact SUV bodystyle with driving DNA from the 911, Boxster and Cayman, and catch the wave of soaring SUV sales.
At the moment the Porsche Macan Diesel is only available with one engine, the 3.0-litre V6 unit. With 254bhp it's certainly not lacking in pace, but will also manage 46.3mpg and emits just 159g/km of CO2. With a price of just over £43,000 it's likely to be the top-selling model in the range - ahead of models like the Porsche Macan Turbo.
At first glance it's another understated piece of design from Porsche, although the basic outline is much closer to a coupe than the Audi Q5 - the car it shares its basic architecture with. On closer inspection details like the clamshell bonnet, quad exhausts, 'C-Blades' in the front air intakes and rubbing strips are all beautifully executed, giving a sense of quality before you've even opened the door.
The interior is typical Porsche - strewn with buttons, but built to impossibly high standards with chunky metal trim and switchgear that operates with a satisfying clunk. You sit low, gently hugged by the sports seats and facing a stunning 918 Spyder-inspired steering wheel - if it wasn't for the raised view of the road ahead, you could be forgiven for thinking you were in a Cayman.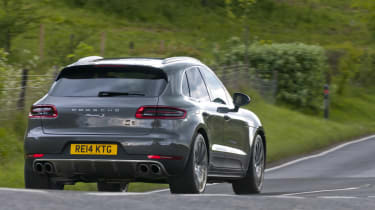 Slot the flawlessly-smooth seven-speed PDK (fitted as standard) into drive and pull away, and it's the Macan's refinement, not its sportiness that shines through first. We drove the Macan S Diesel - expected to account for 60 per cent of UK sales (with the 335bhp Macan S and 394bhp Macan Turbo making up 20 per cent each) - and the 254bhp V6 engine hums away so quietly under the bonnet and revs so sweetly that for the first few minutes we kept bouncing of the limiter, momentarily forgetting we were driving a diesel at all.
A lack of wind, tyre and engine noise, even at 70mph, makes the Macan a superb long-distance cruiser, but there's another side to its character just waiting to burst out. A colossal 580Nm of torque is available between 1,500rpm and 2,500rpm, which means planting your right foot and short-shifting through the gears sends you surging down the road at pace that doesn't seem proportional to the serenity in the cabin.
Things don't fall apart when you reach a corner either - a twist of the perfectly-weighted electromechanical steering and the Macan's nose tucks in immediately with just a hint of bodyroll, but beautiful balance, allowing you to get back on the power early and let the four-wheel drive system dig in and hold you on your chosen line. It's confidence inspiring stuff and given a track to play on you'll soon be turning off the ESP altogether and exploring the Macan's unnatural ability to pull big controllable drifts.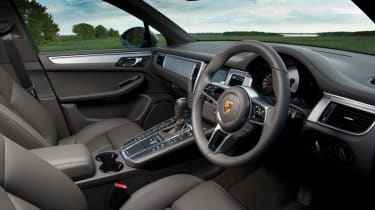 Of course, this being a Porsche, there's a whole host of chassis options to wade through. Both the Macan S and Macan S Diesel come with steel springs and passive dampers as standard, while PASM adaptive dampers are optional. Alternatively you can go the whole hog and order air suspension with PASM as fitted to our test car. At £1,789 it's not cheap, but given the options it opens up we think it's well worth it.
By keeping the body at the same level in all situations it floats over crests and through dips, and in comfort mode smooths out smaller imperfections in the road surface. It sits 15mm lower to the ground than steel springs in normal mode and can drop a further 10mm when you hit the Sport button - lowering the centre of gravity so you can attack corners with even more vigour. In off-road mode it also raises the suspension by 40mm to help you clear rocks and ridges, while the rear can be lowered by 50mm to make loading the boot that little bit easier.
And that's what makes the Macan so special. While it undoubtedly it shares the 911's appetite for speed, Porsche has managed to create an excellent family car that's quiet and refined when you need it to be, spacious in the back despite the sloping roofline and has a 500-litre boot that grows to 1,500-litres with the rear seats down. In other words a sports car without compromise.