SEAT deploys Amazon Alexa in new Leon and Ateca models
SEAT has struck a deal with Amazon to bring the firm's personal assistant tech into its new models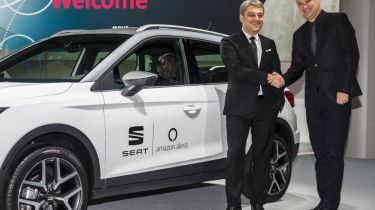 SEAT has begun the rollout of cars equipped with Amazon's voice activated Alexa personal assistant software, beginning in new Leon and Ateca models equipped with satellite navigation.
However, you'll need an Android smartphone to access the feature. Alexa is accessed through the Android version of SEAT's Media Control smartphone app, which can be downloaded from the Android Playstore.
• Car gadgets that can save you money
"We're excited for SEAT to incorporate Alexa into its vehicles," says Ned Curic, who is in charge of Amazon Alexa's automotive division. "We think voice is a big part of the future and this is particularly true in cars. With just a tap of the steering wheel, SEAT customers will be able to ask Alexa for music, get the news, control their smart home, and much more."
Other brands in the VW Group are likely to follow suit, along with many other rival manufacturers, who are attracted by the more advanced voice recognition technology built into systems like Alexa and the rival Apple system, Siri. Currently, automotive based voice recognition systems are less advanced and tend to respond to fixed phrases and expressions only.
"Integrating Amazon Alexa in our range represents a great boost to SEAT's digital ecosystem and connectivity and certainly contributes to position the brand as a front-runner in connected vehicles in Europe", says SEAT President Luca de Meo. "The trend in voice-activated services is growing and for this reason we want to make it available to our customers.
"With just a tap of the steering wheel, customers will be able to ask Alexa for music, points of interest and much more without taking eyes off the road."
With Amazon supporting Alexa with an 'open skills' development kit, it's likely we'll see rapid advances in the range of in-car functions the system can provide. At launch, SEAT says Alexa will enable drivers to optimise their time in their car, managing their schedules and consuming real time news.
Do you welcome more technology into your car, or is it just another distraction? Let us know in the comment below.