The law on smartphones and sat-navs in cars: where to mount and how to use them legally
We investigate where you can legally place phones and sat-navs in your car, and whether you can use them while driving.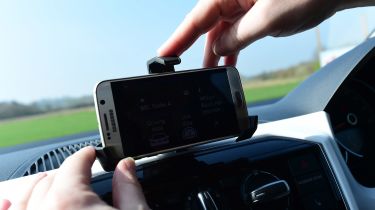 When the Road Traffic Act of 1988 was being devised, few could have predicted the looming ubiquity of mobile phones and sat-navs in our cars. 
Fast-forward to 2003, and an amendment to the Act partly addressed that shortcoming by ruling that: "No person shall drive a motor vehicle on a road if he is using a hand-held mobile telephone". 
• Best mobile phone phone holders
But while the 2003 amendment also outlawed sending texts, picture messages, and even using the internet when driving, using mobile phones for route guidance was a foresight too far, leaving something of a legal grey area.  
Drivers wanting to know if they can use their smartphone as a sat-nav – as well as those wondering where they should place their phones and sat-navs in their car – need to look elsewhere, and opinion on the issue even varies among police officers on occasion.
The law is relatively clear on some of the things you can't do. Most drivers are aware, for example, that it is illegal to use a hand-held mobile for phone calls when driving (unless in an emergency). 
Things get slightly less clear-cut if you're using a hands-free device such as a Bluetooth headset or Apple CarPlay, as the law simply states that "you must stay in full control of your vehicle at all times".
Where can I put my sat-nav or smartphone in the car? 
There are no specific rules for sat-nav and smartphone placement. 
The Road Vehicle Regulations (1986) states, however, that:  "No person shall drive…if he is in such a position that he cannot…have a full view of the road ahead." 
• 6 points and a £200 fine for mobile phone use while driving
The Department for Transport (DfT) has previously published an information sheet on windscreen obscuration, which "is a summary of the Department's understanding of what the law requires", and echoes MoT standards. 
The DfT guidance divides a car's windscreen into two areas, zones A and B.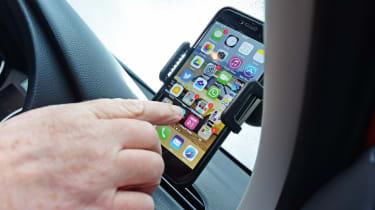 Zone A is defined as: "a vertical area 290mm wide, centred on the steering wheel and contained within the swept area of the windscreen." Zone B comprises the rest of the windscreen.
Obstructions (including mounted sat-navs and phones) within zone A "shall not encroach more than 10mm", while in zone B obstructions "shall not encroach more than 40mm". 
Those rules are the best official guidance available for sat-nav placement, and indicate it may be near impossible to affix a sat-nav or mobile phone to your windscreen without breaching them. 
There is, however, yet more equivocation held within official guidance. MoT testing rules stipulate if an "obstruction does not impair the driver's view of the road, the vehicle should pass [its MoT]. If it only affects the driver's view of the sky or the bonnet then this is not to be considered a reason for rejection".
Assuming the DfT's guidance is related to MoT rules, this suggests a sat-nav or mobile could be allowed to obscure the windscreen by more than 10/40mm, as long as it only blocks the driver's view of the bonnet or the sky. But even here, there is more subjectivity, as MoT testers are "not required to speculate on the effects on tall or short drivers" – meaning your driving position has an effect on how much of the windscreen is and isn't obscured by any device.
Can I touch my phone when using it as a sat-nav in the car?
Yet more uncertainty here. The 2003 amendment to the Road Traffic Act makes it illegal for to drive when "using" and hand-held mobile, which is defined as such if: "it is, or must be, held at some point during the course of making or receiving a call or performing any other interactive communication function." 
Partnership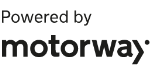 Need to sell your car?
Find your best offer from over 5,000+ dealers. It's that easy.
Understandably, given its date of inception, no mention is made in the amendment of using a sat-nav smartphone app. Whether route guidance is an "interactive communication function" must also be up for debate.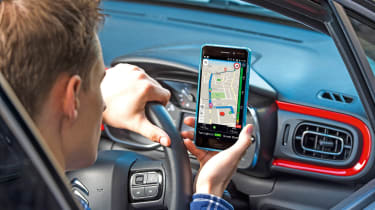 Turning to the Highway Code, (which draws on the Road Traffic Act), rule 149 states that:
"You MUST exercise proper control of your vehicle at all times. Using hands-free equipment is also likely to distract your attention from the road." 
Rule 150, meanwhile, cautions: "There is a danger of driver distraction being caused by in-vehicle systems such as satellite navigation systems. Do not be distracted by maps or screen-based information (such as navigation or vehicle management systems) while driving." 
Ultimately, the laws on the subject appear to provide limited specific guidance so how they are interpreted will often be down to individual police officers – and possibly the courts. Official Government advice states that: "The police can stop you if they think you're not in control because you're distracted and you can be prosecuted." 
Are you confused by the law on smartphone and sat-nav use in cars? Let us know in the comments section below...