Motor industry calls for "consistent" CO2 emissions policies
SMMT warns Government over "anti-diesel agenda" threat to UK's 2021 CO2 targets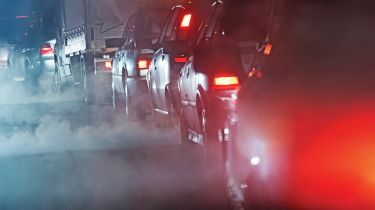 The UK automotive industry has hit out at Government policy on carbon dioxide (CO2) targets, warning that an "anti-diesel agenda" is jeopardising the chances tough CO2 targets being met by 2021.
The call follows the news that 2017 saw the first increase in average CO2 emissions on record – a development reported by Auto Express towards the end of last year.
• Government loses High Court case over pollution plans
A fresh report from the Society of Motor Manufacturers and Traders (SMMT) highlights average new car CO2 emissions increased by 0.8 per cent in 2017, and currently stands at 121g/km. That's despite annual reductions of 5.9 per cent being necessary for the industry to meet CO2 targets set for 2021, which will require new cars to emit just 95g/km of CO2 on average.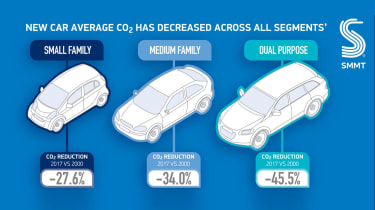 The SMMT says almost half 2017's CO2 increase can be attributed to last year's 17.1 per cent decline in the sales of diesel cars, which typically produce less CO2 than their petrol counterparts.
The organisation blames diesel's fall in popularity on "confusion over government policy", and is calling for "consistency from government in messages to consumers." The report also emphasises that new cars emit 12.6 per cent less CO2 than the models they replace, and a third less than cars from 2000.
Government policy on diesel has fluctuated over the years. Back when Gordon Brown was Chancellor of the Exchequer, buyers were encouraged to purchase diesel cars with tax incentives linked to their low CO2 emissions.
Fast forward to 2017, however, and Philip Hammond's Autumn Budget saw an increase in first-year vehicle excise duty (road tax) rates for diesel cars, together with a one per cent increase in company car tax for diesel models.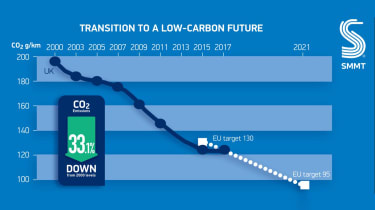 Calling for a more "consistent approach to incentives and tax", Mike Hawes, chief executive of the SMMT, said: "The industry shares government's vision of a low carbon future and is investing to get us there – but we can't do it overnight; nor can we do it alone.
"The anti-diesel agenda has set back progress on climate change, while electric vehicle demand remains disappointingly low amid consumer concerns around charging infrastructure availability and affordability. To accelerate fleet renewal, motorists must have the confidence to invest in the cleanest cars for their needs – however they are powered."
Now read about the EV charging network planned by the National Grid…