"Britain has taken over as the design capital of the world"
Mike Rutherford thinks Britain, Germany, Japan and Sweden are leaving the rest behind when it comes to car quality and desirability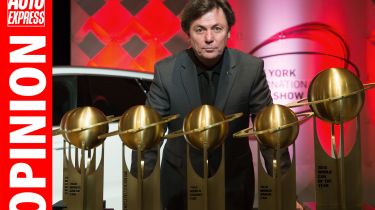 There was much to celebrate at the World Car Awards ceremony in New York last week. For example, the gang of four – Britain, Germany, Japan and Sweden – confirmed they are now the top vehicle-producing nations on the planet in terms of quality and desirability.
And, to be blunt, the chasing pack – America, Czech Republic, France, Italy, Korea and Spain – have to bite the bullet and concede they're not in the same elite league. For now, at least.
Another reality is that Britain has taken over as the design capital of the world. I say this because Jaguar won the coveted World Car Design of the Year trophy in 2017 with the F-Pace, while Land Rover grabbed the same prize this year with the Velar.
So Jag's Ian Callum and Land Rover's Gerry McGovern can therefore consider themselves the greatest designers on earth. And the heir apparent is fellow Brit Marek Reichman of Aston Martin. Fair enough? Who's better?
High-profile firms such as General Motors and Mercedes should feel embarrassed they didn't earn so much as a mention at these World Car Awards. After all, little ol' Suzuki and struggling Chrysler punched well above their weights by making it through to the final stages of the competition. Shame then that a depleted GM and lethargic Merc were conspicuous by their absence.
But it was hapless Ford I really felt for at the ceremony. It was bad enough the Volkswagen Polo beat the Fiesta to the title of World Urban Car of the Year. But it got worse when the models judged the three finest overall (Velar, Mazda CX-5 and Volvo XC60) proudly sat on stage, under the spotlights as photographers and camera crews from across the globe glared at them in admiration.
How and why could these three 'best-on-the-planet' cars be responsible for drowning Ford in frustration, misery and regret? Because Land Rover, Mazda and Volvo were not so long ago owned or part-owned by Ford which, apparently, couldn't do a thing with them. They weren't quite basket cases when in the not-so-steady hands of the Michigan-based empire. But they weren't far off.
Now look at 'em! Owned by TATA of India, Land Rover has never been in better shape or produced finer products. Mazda has become stronger yet cooler since returning to its roots as a fully-fledged Japanese manufacturer. And now under direct control from China (Geely) of all places, Volvo can't put a foot wrong.
So the 64,000 dollar question is how come these brands and their showroom products were so miserable, ugly and unwanted when owned by America? And the 64 million dollar question has to be why can the Indians, Japanese and Chinese make a go of these marques, when Ford didn't have a clue what to do with them?
Do you agree with Mike? Is Britain leading the way when it comes to car design? Let us know below...