Smart speed bumps to automatically check tyre tread depth
Expanding SnapSkan system uses 3D scanners to measure tread depth, alerting drivers if new rubber is required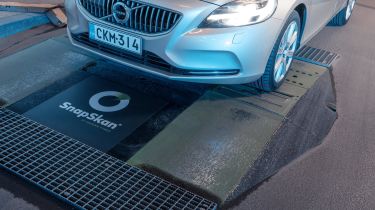 Drivers entering car parks could soon have their tyres automatically scanned for tread depth, after a Finnish company announced the expansion of its tyre-checking speed bumps.
Nokian's SnapSkan system features a 'smart' ramp that can be installed in public car parks and similar locations. When driven over, the speed bump uses 3D scanning to measure the tread depth of all four tyres.
• Speed humps: should they stay or go?
The system is free to use, and drivers wanting to make use of it can opt in via text message or email, signing up either before or after they have driven over the ramp.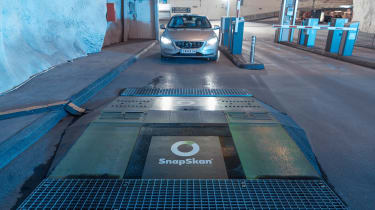 Those who decide not to opt in to the SnapSkan system will see their vehicle's data automatically deleted, while those signing up will be sent a report on how much tread their tyres have left. The report will also include a discount code for use in local tyre suppliers, should new rubber be needed.
A prototype version of the SnapSkan system was first installed in a Helsinki multi-storey car park in 2016, with a fully operational version unveiled in 2017. Following positive public reaction – 80 per cent of those using the system said they would recommend it to others – Nokian is rolling out a further four SnapSkan installations at locations across Finland.
Nokian's chief executive, Hille Korhonen, called the SnapSkan system is "the world's first tyre scanning service that is fully automatic and available at a public location". Korhonen added that its aim was to improve road safety.
While there are no plans for a UK introduction yet, Nokian is set to launch the system outside of Finland for the first time with of a new service in Oslo, Norway. If SnapSkan does make it over here, it could do much to address the estimated 18 million cars thought to be driving on UK roads with illegal tyres.
Could automated tyre tread reports save lives in the UK? Research has shown that most motorway accidents could be avoided with better tyre care…