EU accuses BMW, Daimler and VW of emissions collusion
German firms coordinated over limiting vehicle AdBlue consumption and delaying the introduction of petrol particulate filters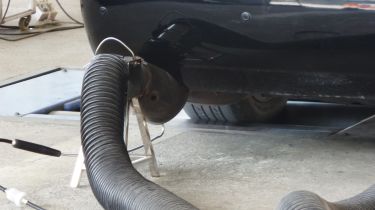 BMW, Daimler and Volkswagen (including Audi and Porsche) have been accused of colluding to restrict competition on emission-reducing technology in a preliminary European Commission report.
The Commission has issued a Statement of Objections saying that, in its view, the manufacturers breached EU antitrust rules. The firms allegedly coordinated their AdBlue dosing strategies, tank size and refill ranges between 2006 and 2014 in order to limit AdBlue consumption in their cars.
• JLR recalls 44,000 cars over "excessive" CO2 emissions
While this will have meant owners did not have to refill their diesel cars' AdBlue tanks as often, something likely to have improved the ownership experience, it also reduced the systems' effectiveness when it came to cleaning up exhaust gases.
The three companies have also been accused of delaying the introduction of Otto particulate filters (OPFs) – which limit harmful exhaust emissions from petrol-engined cars – in their new direct injection petrol models between 2009 and 2014.
In a statement, the Commission said: "The Commission's preliminary view is that the car manufacturers' behaviour aimed at restricting competition on innovation for these two emission cleaning systems and in doing so, denied consumers the opportunity to buy less polluting cars, despite the technology being available to the manufacturers."
It added: "The sending of a Statement of Objections does not prejudge the outcome of the investigation."
• New AIR Index car emissions system launches with red, amber and green ratings
BMW Group issued a statement in response, saying: "The BMW Group attaches great importance to the findings confirmed by the European Commission in its press release of 18 September 2018 that the ongoing investigations concern only potential violations of competition law and not deliberate unlawful manipulation of the emission control system. There is no allegation of this kind against the BMW Group.
"The BMW Group is committed to responsible and lawful conduct as the basis for all its business activities. The company has established a comprehensive compliance management system to ensure compliance with applicable legislation, including the provisions of antitrust law."
A spokesperson for Daimler said: "We are aware that a statement of objections has been issued and are awaiting formal notification. Daimler has been cooperating extensively with the European Commission as leniency applicant already at an early stage and does not expect to receive a fine in this matter. We have no further comments to make, as this is an ongoing case."
In a statement, Volkswagen said: "The Commission acknowledges the fact that cooperation between manufacturers on technical issues is widespread in the global automotive industry.
"After having investigating numerous other technical topics, which were discussed in the Circles of Five, the Commission stated last year that it 'does not have sufficient indications that these discussions… constituted anti-competitive conduct that would merit further investigation.' The proceedings were therefore limited to conduct relating to emission control systems only."
Click here for everything you need to know about the new WLTP tests...