'Land Rover's designer is as into buildings as he is into cars'
Gerry McGovern is deliberately provocative when designing Land Rovers, says Mike Rutherford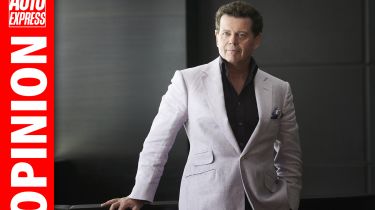 It's fair to say that Gerry McGovern – one of the top five car designers in the world – is deliberately and unapologetically provocative when he grabs his trusty box of crayons and creates new Land Rovers.
But the company's chief design officer (that's big) and member of the management board (even bigger) is almost as good at public speaking, story-telling and joke-cracking as he is at dictating the shape of Range Rovers, Velars, Evoques, Defenders and more.
For example, I once bumped into him in Los Angeles, where he was temporarily homeless after being "forced" to check himself out of a posh Hollywood hotel. How come? Because his room had a black bath, black taps and black tiles which, collectively, were a "design disaster" – made worse by the fact that, unsurprisingly, he couldn't find the black soap.
That's the thing about McGovern: the design and functionality of hotel bathrooms, and a million and one other non-automotive things, seem as important to him as how his cars look and feel, plus what reactions they provoke. Significantly, he insisted to me and my World Car Awards colleagues last week that he is not a car nut. Sure, he's into them. But he's equally into buildings, furniture and clothes.
The cathedral in his birthplace (Coventry) greatly influenced and inspired him, as did the neighbouring Lady Godiva Cafe (now the Round Cafe) that employed his mum. His first piece of bought furniture – a Model B3 Wassily chair – "looked like something from an asylum," his dad told him.
McGovern eventually designed – surprise, surprise – and built his own home, which I've seen and, as a fellow house designer/builder, consider to be a minor masterpiece. As with his Land Rover products, McGovern says his home must be improved/updated every few years. Not more than 10.   
His favourite car? The 1961 Continental by Lincoln, where he used to work. Why's it the best ever? "Modern approach, level of sophistication, pared back, reductive approach, scale. It spoke to me," admits Gerry Mc.
His least favourite? He refuses to name names. But he does point to some Japanese SUVs (one or two made by Lexus) where, he hints, the engineering comes first and the design a definite second. That's not the Land Rover way of doing things under McGovern's watch.
He doesn't say this, but I do. After pretty much achieving everything he could have possibly achieved at Land Rover, it's time for him to diversify – with a Gerry Mc range of JLR furniture, or clothing – which he's already dabbled in– or houses. Watch this space. It could, and should, happen.
What do you think of Land Rover's designs? Let us know in the comments...