Dennis launches DrivingElectric magazine
The launch issue of DrivingElectric magazine is on sale now in WH Smith high street and travel outlets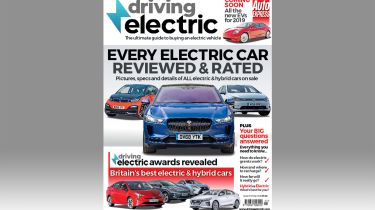 Dennis Publishing has launched DrivingElectric magazine, a definitive guide to electric and hybrid motoring. It's available as a 100-page quarterly magazine, on sale now in WH Smith high street and travel outlets for £5.00.
The launch issue takes an in-depth look at the 2019 DrivingElectric award winners, naming the very best hybrid and electric cars on sale today.
They include the DrivingElectric Car of the Year and best compact electric car, the Kia e-Niro family SUV, and other victors such as the Hyundai Ioniq Plug-In (best compact plug-in hybrid), Toyota Prius (best compact hybrid) and Jaguar I-Pace (best large electric car).
There are also detailed reviews of every electric and hybrid model on sale now in the UK, from sporty coupes to family-friendly MPVs and practical hatchbacks to opulent luxury cars – as well as every electric van you can buy today.
DrivingElectric also answers the big questions motorists have about making the switch to electric: queries about the different types of drivetrain, running costs, charging and the ownership experience are all answered in the brand's clear and jargon-free style.
All routes into electric-car ownership are covered, with advice on buying a used electric or hybrid included, too, along with buying guides for specific models.
And readers are brought right up to date with the wave of new hybrid and electric cars coming to the UK in 2019, which will open up choice for buyers like never before.
Pick up your copy of DrivingElectric magazine for £5.00 at WH Smith high street and travel outlets...