All Government-funded EV charge points to be smart
New charge points receiving Government installation grants must be able to detect and charge at off-peak times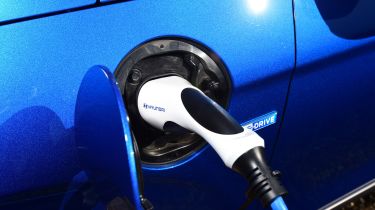 All Government-funded electric vehicle (EV) charge points will have to be smart by 2019, allowing the chargers to receive communications from electricity suppliers. This, in turn, will allow EVs to automatically charge when demand for electricity is low.
To facilitate this, the Government's home charging scheme will only provide grants for chargers capable of being remotely accessed and receiving, interpreting and reacting to a signals from energy suppliers.
• New 450kW EV charger from BMW and Porsche is as fast as filling up with petrol
The key advantage of smart charging is that it reduces high peaks of electricity demands, minimising the cost of EVs to the National Grid and, in turn, keeping costs down for consumers by encouraging off-peak charging.
The Government has also announced that grants to install charge points will be maintained at the current level of up to £500, unlike the Plug-in Car Grant, which was recently reduced for EVs, and cut altogether for PHEVs.
At present, the Electric Vehicle Homecharge Scheme (EVHS) provides grant funding of up to 75 per cent towards the cost of installing EV charge points at domestic properties in the UK.
Meanwhile, the Workplace Charging Scheme is a voucher-based system that provides support towards the up-front costs of the purchase and installation of EV charge points for eligible businesses, charities and public sector organisations.
Roads minister Jesse Norman commented: "The government wants the UK to be the best place in the world to build and own an electric vehicle, and through leadership and innovation it is paving the way to a zero emission future."
He added that the new measures "will give more people the opportunity to make the move to electric".
• Volkswagen, Tesco and Pod Point to roll out 2,400 EV chargers
Automotive minister Richard Harrington said: "Today's measures will make it easier for consumers to move towards electric vehicles, helping us power towards a cleaner, greener future."
He echoed Norman's claim that the Government is aiming to "ensure the UK is the leading destination for the innovation and manufacture of electric vehicle batteries and technologies to help all parts of the UK reap the economic benefits of these innovations".
Considering buying an electric car, then read our list of the best electric cars on sale here...