New 450kW EV charger from BMW and Porsche is as fast as filling up with petrol
BMW and Porsche's prototype 450kW FastCharge unit can give 62 miles of range in just three minutes, once vehicle technology catches up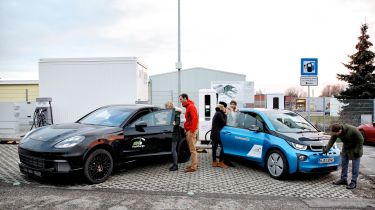 A new electric vehicle charger capable of delivering 100km (62 miles) worth of charge in just three minutes, and fully charging an EV's batteries in just 15 minutes, has been developed by a number of German companies, including BMW and Porsche.
The companies' 450kW (kilowatt) FastCharge system – while still a prototype – trebles the charge rates of the world's rapid chargers' at present, and promises "to make charging electric vehicles as fast and convenient as fuelling with petrol".
When operating at its maximum 450kW capacity, it has proven capable of replenishing a BMW i3 (fitted with a "specially developed high-voltage battery") from 10 to 80 per cent in just 15 minutes, and delivering 62 miles of range to a Porsche research vehicle in just three minutes.
While not technically a 'full' charge, this is representative of a full charge in real-world conditions, as manufacturers advise against recharging to 100 per cent, and most owners are unlikely to allow their batteries to drop below 10 per cent.
To give an idea of the scale of the leap the 450kW FastCharge prototype delivers, home wallboxes deliver electricity at 3.6 to 22kW, the majority of rapid public chargers deliver at 50kW, while Tesla's Superchargers deliver 120kW. Using a 50kW charger, Nissan says its Leaf will take around an hour minutes for its batteries to go from 20 to 80 per cent, while a Tesla Supercharger can provide a similar charge in around 40 minutes.
The new FastCharge system's prototype nature is most evident in the capability of current EVs' ability to accepet ultrafast charge rates, however. The Audi e-tron – one of the newest electric cars on the market – can 'only' receive 150kW – though the upcoming Porsche Taycan is slated to accept 350kW. As well as offering future EV drivers comparable convenience to filling up with petrol or diesel, the FastCharge unit is capable of automatically detecting the capabilities of the vehicles plugged into it, and adjusting its rates accordingly.
BMW has developed the technology in conjunction with Porsche, Siemens, Allego and Phoenix Contact E-Mobility, receiving £7million from the German transport ministry to help fund the project. BMW says the project has seen it "test the limits of the fast-charging capacity demonstrated by vehicle batteries" thanks, in part, to the energy supply system delivered by Seimens.
Do you agree with BMW and Porsche, is a 450kW charger as fast and convenient as filling-up with petrol? Let us know your thoughts below...