Volkswagen, Tesco and Pod Point to roll out 2,400 EV chargers
By 2020, there will be 2,400 charging bays at 600 Tesco stores in what will be the UK's largest retail network of EV chargers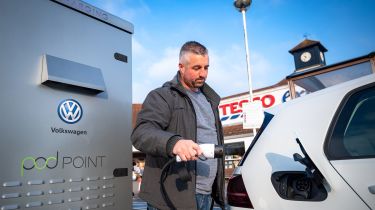 Volkswagen, Tesco and Pod Point are rolling out 2,400 electric vehicle (EV) charging bays to create what will be the UK's largest retail network of EV chargers.
By 2020, 600 Tesco Extra stores and Tesco Superstores across the country will offer fast or rapid charging, with Pod Point installing 7kW and 50kW EV chargers.
• Electric car charging in the UK
Customers will be able to charge their EVs for free at the 7kW fast chargers or use the 50kW rapid chargers in exchange for a fee that VW describes as "a small cost in line with the market rate".
The charging bays will be open to EVs of all brands, but will feature VW branding as well as LCD screens that will display advertisements for a variety of companies, including the German manufacturer.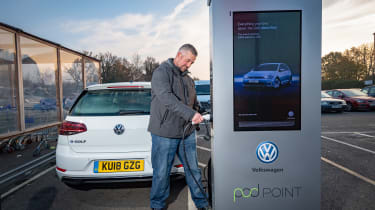 VW says the network will help it deliver on its pledge to "become a leading player in e-mobility" and sell one million electric cars a year worldwide by 2025.
Meanwhile, Tesco hopes the scheme will enable it to build on the commitment it made last year to run on 100 per cent renewable energy.
VW currently offers two electric cars – the e-Golf and e-up!. The German brand will start launching its I.D. family of EVs next year when order books open for the I.D. hatch – a fully electric Golf-sized model to be followed from 2020 with the I.D. Buzz and I.D. Crozz.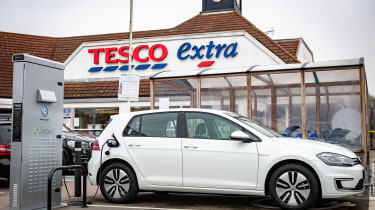 Pod Point CEO Eric Fairbairn said the agreement "represents a 14 per cent increase in the number of public charge bays in the UK". 
Geraldine Ingham, head of marketing at Volkswagen UK, said the partnership "underlines the scale and ambition of our electric car programme in the UK" and "should leave no one in any doubt about the Volkswagen brand's wholehearted commitment to an electric future".
CEO of Tesco UK and ROI (Republic of Ireland) Jason Tarry said the scheme should help the supermarket chain wants to "to be the leading electric vehicle energy provider and to support our customers with more sustainable solutions".
What are your thoughts on this new charging point partnership? Let us know in the comments below...