'The best car ever made doesn't even exist'
The best car can't be named or driven as it is a car that simply doesn't exist, says Mike Rutherford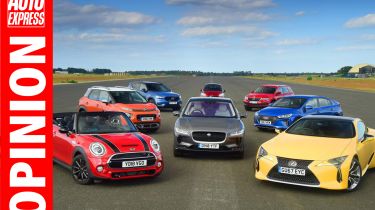 "What's the best car ever?" is a question I'm often asked, but don't have an answer for – because such a vehicle doesn't exist. After four decades driving thousands of motors, however, I've concluded THE best for today's buyers is one that serves up the best of two worlds; offers a bit of both; is two (or more) cars in one.
You might think you need an urban car to commute in the week, then a separate off-roader for Saturday or Sunday fun in the country or at the beach. You don't. What you need is a 3.5 metre-long Suzuki Jimny 4x4, at less than half the price of the cheapest Land Rover.
Similarly, if you have Champagne tastes but a tap water budget, join the masses and accept you can't afford to buy or run that supercar you crave. So forget about the Ferrari costing hundreds of thousands and buy a used Hyundai Coupé V6 for a grand or two. It looks like, and is, a poor man's supercar-lite. Crucially, unlike Italian dream cars, it's great for gentle sprints to work, the shops, the tip, or wherever you fancy.
Reckon you require a vehicle with a tin roof 300 days a year, then a rag top for the remaining 65? Wrong. You need a convertible hard-top. And why suffer all the expense and storage hassles of a classic motor in addition to a contemporary car, when you can instead go for something in between? A £10,000 used Porsche Boxster, perhaps. It'll offer the very best of both worlds, being both a stylish modern classic, and a highly usable daily car about town. The fact the Boxster borders on supercar status is the icing on the cake.
No need to choose between a light commercial vehicle and a car, either. There are countless 'vancars' on sale, with my favourite being the latest version of the Peugeot Rifter/Citroen Berlingo. These are proper Swiss Army knives on wheels.
Vans or motorhomes as short-stay living quarters? Go for the former; the latter can be absurdly expensive. Then, come short holiday or three-day festival time, convert the van (preferably a VW Transporter or Peugeot Boxer) into a makeshift motorhome simply by chucking in a sofa bed, collapsible table and chairs, portable sink, stove and wardrobe. The crude shower and portaloo are best housed outside in tall tents, though.
And if you only need a bed for a night, or two at a push, while spending a weekend at a summer music fest, beach, Grand Prix, Goodwood or Le Mans, a large 4x4 or family estate car with its rear seats flattened can serve as a double bed (well, sort of) where occupants are able to grab some kip for a few hours. When I drove from London to Miami (via Iceland, Greenland, Canada) in a Jeep Commander a decade ago, the bulletproof 4x4 was not only my preferred mode of transport, but also my life-saving hotel room, and one far more comfortable, warmer and safer to sleep in than an exposed tent.
Most important of all, are you torn between a pure-petrol or pure-electric car? For the next year or two at least, go petrol-electric instead. Such vehicles are becoming increasingly attractive and affordable to fund, run and refuel/recharge. Mind you, there is something better and even more flexible than a petrol-electric car, and that's a petrol-electric van.
Do you agree with Mike? Let us know what you think in the comments below...