Driverless cars will increase binge drinking, study suggests
Over a third of adults said they would increase their usual alcohol consumption if they had a driverless car at their disposal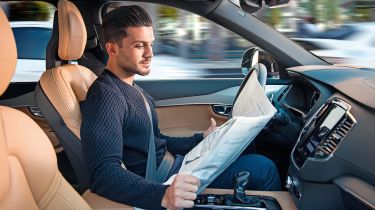 Driverless cars will reduce drink-driving but increase binge drinking, a new study has suggested.
Researchers from Curtin University in Perth, Australia surveyed 1,334 people of legal driving age who consume alcohol. The goal was to assess the extent to which drinkers may choose to use driverless cars after consuming alcohol, may consume more alcohol if they are using a driverless car afterwards, and whether demographic, alcohol‐related and driverless car-related factors are associated with the likelihood of engaging in these behaviours.
Some 49 per cent of respondents said they would be likely to use a driverless car after consuming alcohol, with 37 per cent saying they would be likely to drink more than they usually would if they had a driverless car to use afterwards.
The study showed that younger age, more frequent alcohol consumption, a positive attitude to driverless cars and a preference for using ride-sharing platforms were all demographics associated with a greater likelihood of engaging in these behaviours.
This led the study to conclude that the introduction of driverless cars is likely to reduce drink-driving rates, while facilitating greater participation in heavy episodic drinking. The researchers suggest this will present a new set of challenges for lawmakers.
Leon Booth, research associate at Curtin University's School of Psychology, was the lead author of the study. He warned that the benefits of driverless vehicles "may be accompanied by an unintended negative consequence in the form of greater overall alcohol consumption due to increased availability of affordable and convenient transport".
Co-author of the study Professor Simone Pettigrew added: "Once autonomous vehicles become readily available, they could be used as a means of facilitating out-of-home alcohol consumption and more frequent bouts of heavy drinking.
"Because the introduction of the vehicles will likely bring both positive and negative health effects, this represents a complex challenge for policymakers charged with reducing alcohol-related harms. A particular challenge will be the need to encourage the use of autonomous vehicles after drinking without encouraging drinking per se."
Self-driving cars will lead to parking chaos
Unlike today's cars, autonomous vehicles (AVs) will not need to park close to their destination. Instead, they may save on parking charges by dropping their owners off, then proceeding to seek out free on-street parking or returning home.
• Autonomous cars could report drunk drivers to police
It may even be cheaper for driverless cars to cruise around at lower speeds while waiting for their owners instead of parking, according to the Transport Policy paper.
The study used a traffic microsimulation model and data from downtown San Francisco to calculate that AVs could more than double vehicle travel to, from and within dense urban areas.
• Jaguar Land Rover develops "trustworthy" autonomous cars
The paper goes on to suggest cities may be required to see this as an opportunity to implement further congestion charges in order to mitigate the effects of AVs not parking at their destination.
Such a levy could be made up of two charges – a time-based charge for occupying public highways, whether parked or in motion, as well a distance or energy-based charge.
• Autonomous robots to park cars at Gatwick Airport
The paper was written by Adam Millard-Ball, an associate professor of environmental studies at the University of California, Santa Cruz. Speaking to UC Santa Cruz Magazine, he said the problem he describes in the study could be exacerbated by AVs slowing down to a crawl in order to "kill time".
He told the publication that, although parking charges "get people out of their cars and on to public transit", AVs not needing to park could "create havoc".
• Autonomous cars will never exist says Waymo boss
Millard-Ball compared the situation to people driving slowly through airport arrivals areas to avoid paying for parking. "It just takes a minority to gum things up," he said.
"Even when you factor in electricity, depreciation, wear and tear, and maintenance, cruising costs about 50 cents an hour – that's cheaper than parking even in a small town," he added. "Unless it's free or cheaper than cruising, why would anyone use a remote lot?"
Would you trust a self-driving car? Let us know in the comments below...