New car options: which ones should you choose?
Choose the right options, and your car's spec will appeal for as long as you own it, and you'll maximise resale value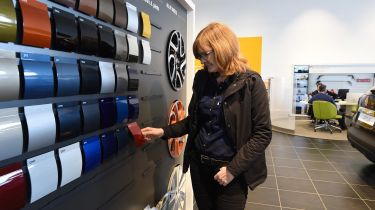 So you've worked out exactly which 19-plate model you're after, decided on its powertrain and know how you're going to pay for it – but what about the precise spec?
Makers offer greater scope for personalisation than ever, so choosing the features your car should have isn't simple. And while it's no secret that dealers make a decent margin selling options, you'll probably be living with your new motor for at least three years, and don't want to be cursing the fact that you didn't tick a certain box on the order form.
It almost goes without saying that many extras are class-specific; it makes little sense to pay for leather seats on a city car, for example. We should also highlight that while a DAB radio or electric rear windows used to be something of a must-have, these features are now becoming increasingly standard, even at the more affordable end of the market.
With that said, our guide to essential options draws on the proven expertise of the Auto Express reviews team, to help guide you through the decision-making process and get exactly the right options for you.
How options can affect tax and emissions
The road tax system introduced in April 2017 means cars with a £40,000-plus list price are subject to an annual tax supplement of £310 from years two to six of their life.
That cap is determined after all options have been added, and before any discounts, so keep this in mind when specifying your new car. Breaching £40k will add an extra £1,550 to the car's lifetime cost, and could put off used buyers, too. Also note how the new Worldwide Harmonised Light Vehicle Test Procedure (WLTP) emissions and economy standards have affected options. WLTP takes into account the effect certain extras, such as roof rails and alloys of differing sizes, have on mpg and emissions.
This means you may find more options are now offered as packs, rather than as individual add-ons. It's worth weighing up just how much you want the other features included in bundles, before making the decision to pay for them.
The must-haves
LED headlights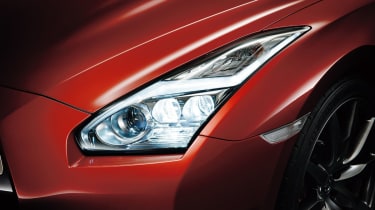 Headlight technology has evolved enormously over the years, with tungsten, halogen and xenon bulbs offering increasing levels of brightness and clarity. Today, LEDs are optional extras in most manufacturers' brochures. While LED lights are expensive, they're well worth considering for their improved visibility. A handful of makers are moving to laser technology, but LEDs offer nearly all the advantages of laser tech, and are substantially cheaper.
Bonus feature: Matrix LEDS
Comprising multiple LED segments, these optimise the amount of light on offer by dimming sections of the beam that would otherwise dazzle other drivers or reflect off road signs, and cast full light on other areas of the road.
Metallic paint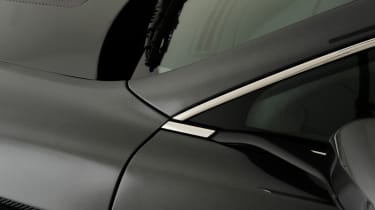 While long-established features such as a DAB radio or electric windows are widely offered as standard these days, metallic paint – which has been around since the thirties – remains stubbornly on the options list. From the point of view of both aesthetics and residual values, this is one option that should be on all buyers' lists.
Bonus feature: Pearlescent paint
Instead of being infused with metallic flecks, pearlescent paint has tiny ceramic crystals that refract light as well as reflect it. Pearlescent paint is expensive, but adds extra bling.
Parking sensors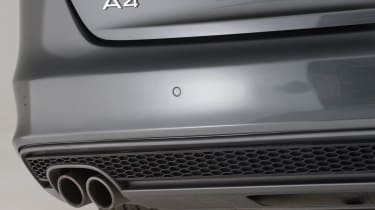 You may think parking sensors would be standard on all cars by now, but many manufacturers charge extra for them, even on relatively high-end models. And if you're paying for rear sensors, it's usually best to go for front ones, too. Sometimes these aids abrogate responsibility from the driver, but the truth is they just make life easier and less stressful when parking. Used buyers are keen on them, too.
Bonus feature: Parking cameras
The automotive equivalent of eyes in the back of your head. Consider a 360-degree camera for the ultimate in visibility.
Heated windscreen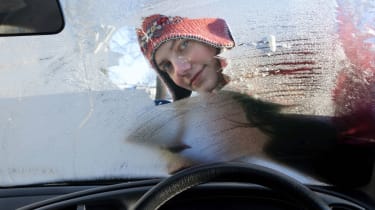 Once the preserve of Ford's Quickclear windscreen – until the maker's patent expired in 2011 – a heated screen uses either filaments or a thin layer of embedded silver to clear it on frosty mornings. Faster than waiting for the car to warm up, and more convenient than de-icer and a scraper. Once you've had a heated screen, you won't want to do without it.
Bonus feature: heated steering wheel
Considered either a warming indulgence or a decadent frippery, heated steering wheels tend to be inexpensive, although they're sometimes bundled with 'winter' packs.
AEB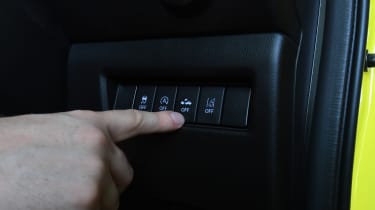 Autonomous emergency braking has been around in the UK since 2008, and it's now nearly – but not quite fully – standard on the new car market. AEB may not have the kerb appeal of larger alloys or a snazzy bodykit but, given that it's said to reduce rear-end collisions by up to 35 per cent, this is one feature well worth asking about.
Bonus feature: 'Motorway-friendly' AEB
Many AEB systems are designed to operate only at city speeds (typically 25-30mph), but for ultimate peace of mind, look for set-ups that work at motorway speeds.
Panoramic sunroof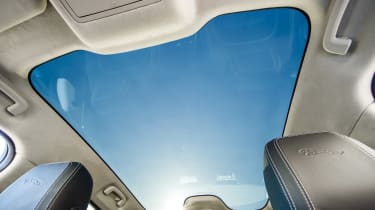 Even the most sombre of interior designs can be enlivened with the addition of a panoramic sunroof. While this tends to be an expensive feature to specify, it's also sought after on the second-hand market, and the extra light brought in by a large glass roof can transform a car's cabin. Be sure to check how big the sunroof is from inside, though; some 'panoramic' versions look vast from the outside but, from the interior, the aperture can be quite small.
Bonus feature: Tilt/slide panoramic roof
Having an opening facility only adds further appeal.
Digital dashboard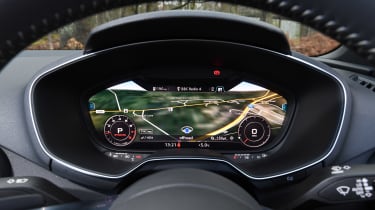 Digital dash screens really took off with the launch of Audi's Virtual Cockpit in the 2014 TT. Since then, scores of other cars have been made available with an LCD display in place of traditional analogue 'clocks', with everything from the Mercedes E-Class to the relatively humble Volkswagen Polo being offered with this tech. Consolidating vital information such as the car's speed together with sat-nav maps, entertainment information and telephone functions saves you looking away from the road ahead, while the screens' highly configurable nature means you can set them up to show as much, or as little, as you like.
Bonus feature: Head-up display
For the full fighter-pilot experience, consider either a head-up display, which beams vital information on to the windscreen, or an inconspicuous glass screen that rises from the dashboard.
Heated seats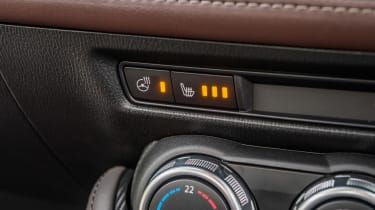 Heated seats are a polarising option. Some people swear by them, while others see them as totally unnecessary – although having leather seats, which can feel ice cold on a winter's day, may sway the latter sceptics. Yet even if you don't need your posterior to be warmed, your passengers (and potential second-hand buyers) may feel differently. Considering that this option tends to be relatively inexpensive, ticking the box is something of a no-brainer.
Bonus feature: Ventilated seats
These clever seats are just as welcome on a hot day as heated versions are in a spell of cold weather.
Cruise/adaptive cruise control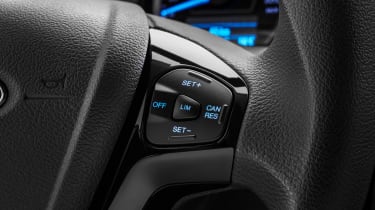 Whether you prefer standard cruise control, or the more advanced adaptive version (ACC, which matches the speed of the car in front), is a matter of personal preference; opinion is split in our office. Either way, ensuring your car has some version of cruise control can take the strain out of long drives, help keep you legal in average speed-check zones, and make your car more attractive to its next owner.
Bonus feature: ACC with stop-and-go
You'll need an automatic gearbox to get the most out of ACC with stop-and-go, but this combination makes driving in traffic jams an absolute breeze.
Climate control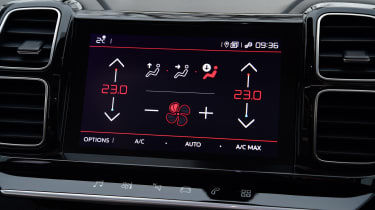 Air-conditioning tends to come as standard on all but the most affordable cars, but for greater convenience, consider upgrading to climate control. This allows you to set and forget a precise temperature that, when placed in 'auto', the system's computer automatically maintains. Most climate-control set-ups have an 'eco' option for improved fuel economy, and are dual-zone, too, allowing driver and passenger to choose different temperatures.
Bonus feature: Multi-zone climate
Particularly useful if you regularly carry rear passengers, quad-zone climate provides four zones (left and right, front and rear) for which occupants can configure the temperature.
Apple CarPlay/Android Auto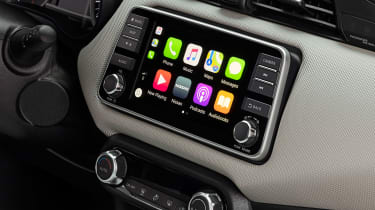 Even if you've specced sat-nav, a hard drive and Bluetooth, it's well worth checking whether Apple CarPlay and Android Auto are included. 'Mirroring' certain elements of your smartphone on your in-car screen negates the need for an inelegant cradle, gives access to Google Maps, uses your mobile's voice assistant and opens up many other features. And while many makers offer a retro-fitting service, it's easier and often cheaper to spec them when ordering.
Bonus feature: wireless CarPlay
Look out for cars with this. It's still pretty rare but, when combined with wireless charging, it makes life even more convenient.
Driving modes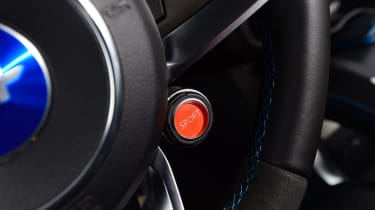 Driving modes started life in relatively high-end cars, with the 2003 Volvo S60 R offering one of the first iterations. Today, nearly every car is offered with selectable modes, typically in normal, sport and eco guises. While they don't always make a huge difference, the ability to adjust steering weight, throttle response and automatic gearbox speed adds another layer of depth to modern cars' talents.
Bonus feature: Adaptive dampers
These aren't typically offered on smaller cars, but if you're buying a family hatch or larger model, being able to adjust suspension stiffness is a boon on poor-quality roads, or when you fancy a sporty drive.
Blind-spot warning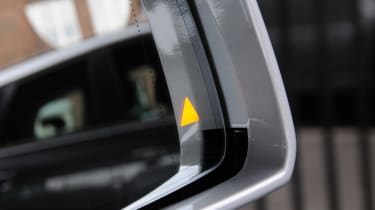 As with parking sensors, a blind-spot warning system is a feature you won't want to be without once you've sampled it. The concept is simple: when a car is in your blind spot, a light (typically in or by the wing mirror housings) illuminates. The reassurance this adds might seem negligible, but in truth it makes motorway driving easier, safer and more pleasant.
Bonus feature: lane-keep warning
Some drivers don't get on with LKA, but others find it adds further reassurance, particularly on long drives.
Leather upholstery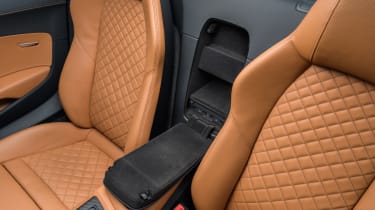 As a hard-wearing, stain-resistant material that adds a dash of luxury to even the most pedestrian car, leather is one of the more in-demand options. It's almost universally standard in the exec class and upwards – but some 'leather' finishes are actually synthetic, so you may wish to upgrade further.
Bonus feature: Alcantara upholstery
Alcantara is a polyester and polyurethane-derived fabric, and its relatively humble composition doesn't detract from its plush and sporty nature. Just watch out for Alcantara-trimmed steering wheels and gearknobs – these can lose their lustre quickly.
Buying a new car? Check out our top tips for negotiating the best price...