Driving in Europe after Brexit: everything you need to know
Brexit is set to impact UK motorists driving in EU countries in a number of ways; our guide sets out the changes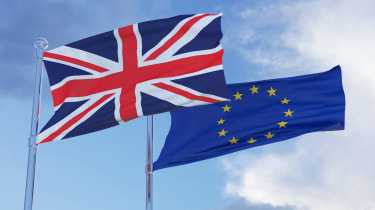 Brexit has finally happened with the UK leaving the EU as of 11pm on 31 January. However, there have been no specific arrangements have been put in place meaning that Brits could see significant changes when driving in EU countries in future.
The changes to the rules and procedures around driving in Europe affect driving licences, car insurance, driving permits and a host of other factors that motorists will need to consider if they wish to take to European roads after 31 January.
• UK driving licences could be invalid in EU countries following hard Brexit
Here's everything you need to know about driving in the EU post-Brexit...
International Driving Permits
With the United Kingdom currently in the transition period after Brexit, there is currently no legal requirement for UK licenced drivers to apply for an International Driving Permit when driving in France or in any other EU country, though it is recommended in certain countries including Italy and Portugal. However, if the UK fails to reach an agreement with Europe during the transition period then a no-deal scenario will be established meaning that British motorists who wish to drive in Europe will be required to purchase an International Driving Permit (IDP).
An IDP is, in essence, a translated version of your existing driving licence. It allows foreign officials to quickly and easily check your credentials. It costs £5.50 to buy and you can apply for one at the Post Office.
It's worth bearing in mind that an IDP is not valid on its own – you need to have your standard photocard driving licence with you as well.
• International driving permit: do you need one?
There are actually two different types of IDP you can purchase. The first of these falls under the 1949 Geneva Convention on Road Traffic and the second derives from the 1968 Geneva Convention on Road Traffic.
Post-Brexit, 1949 IDP variants will only be valid in Cyprus, Ireland, Malta and Spain, while 1968 IDPs must be purchased for the purposes of travelling in any other EU country. The DfT says the "version of the IDP you would require depends on which EU country you are visiting", and that drivers "may be turned away at the border or face other enforcement action, for example, fines if you don't have the correct IDP."
Green card
In addition to an IDP, it's likely that Brits who are planning to drive in Europe post-Brexit will need a motor insurance green card. This is a document provided by your insurer to prove that you have adequate insurance cover for driving abroad.
Fortunately, it's not difficult to apply for a green card and it shouldn't cost you anything – all you need to do is phone up your insurer and ask for one. When you do this, make sure you say where you're going so you get the correct documentation.
• What is a car insurance 'green card' and will you need one post-Brexit?
It's also important to remember that different countries have different requirements, so if your trip involves driving across any borders, you may need multiple documents. For example, if you're driving through France and into Spain, you will need valid documentation for both countries.
A couple of other technicalities you should be aware of; green cards must be printed on green paper in order to be valid and also a green card must have a minimum of 15 days' cover left on it when you enter an EU country.
Road traffic accidents
If you're planning to take your car to an EU country after Brexit, you're advised to check with your insurer before you leave to make sure that, if you're involved in an accident with a European motorist and want to make a claim against them, your insurer will contact their insurer on your behalf and deal with it for you.
Under current rules, if your insurer was not obligated to provide this service, you would be able to get the Motor Insurers' Bureau (MIB) to do so instead. After Brexit, though, this will no longer be the case, and you will be forced to deal with a foreign insurance company, most likely in the language spoken in that country.
The MIB keeps a fund that UK motorists can draw compensation from if they have an accident with an uninsured driver in the UK or another EU country. But, after Brexit, it's likely this form of compensation will be restricted to accidents that happen in the UK only, meaning if you have a crash with an uninsured driver, you may end up severely out-of-pocket.
Vehicle registration documents
In the event of a no-deal Brexit, the rules around carrying vehicle registration documents when driving in Europe shouldn't change.
You should continue the current practice of carrying your V5C vehicle log book in your car when driving abroad. In addition, if you are taking a UK-registered hire car to an EU country, you should have a VE103 to prove you are allowed to drive the vehicle abroad.
Number plates and GB stickers
At present, UK-registered cars driving in EU and EEA countries are required to have a GB sticker affixed to the back, unless the vehicle is fitted with a Euro-plate (a number plate that displays both the EU flag and a GB symbol in its left-hand column).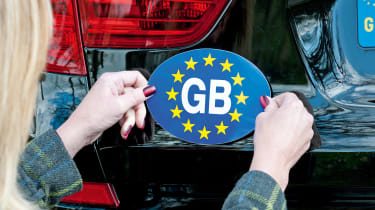 If the UK fails to sort a free trade agreement during the transition period with the EU then an automatic 'no-deal Brexit' will occur. If this is the case then UK-registered cars will be required to have a GB sticker affixed to them, regardless of if they are fitted with a Euro-plate or not.
Trailer registration
After Brexit, UK drivers will be required to register commercial trailers weighing over 750kg and non-commercial trailers weighing more than 3,500kg before they can be towed in most EU and EEA countries.
Motorists can also voluntarily register non-commercial trailers that weigh more than 750kg, but there is no legal requirement to do this.
Driving licence exchange for expats
The Department for Transport (DfT) says British expats living in EU countries should exchange their UK driving licence for a local EU licence. Current rules allow UK driving licences to be easily swapped for European ones, but this looks set to change post-Brexit, and British expats may have to take a driving test in their country of residence if they do not exchange their licence before the rules change.
The Government department has warned: "If you move to another EU country to live, you may not be able to exchange your licence after the UK has left the EU."
Expats should exchange their licences as soon as possible, the DfT says, adding that "increased demand may lead to longer processing times and delays".
If you are planning a road trip to France, Italy or Spain then read our helpful guide here...