'The UK should follow Norway's lead for a successful EV future'
Norway has embraced the electric car and sales are rising rapidly and the UK should be taking note, says Steve Fowler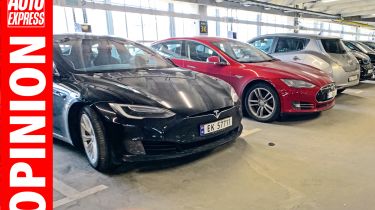 Norway isn't the usual destination for a car launch. Manufacturers tend to head south, where the sun shines and the roads are great. But when it comes to electric cars, Norway is the place to be – as Mercedes was this week.
You can read our first verdict on the new EQC, but the picture above sums up why Norway is the destination of choice for electric car launches. I took the snap as I left the airport and walked through a car park. A whole floor was dedicated to electric cars – rows and rows of Teslas, Jaguar I-Paces, Nissan Leafs, BMW i3s and many more cars with leads running to charging points. Hundreds of them.
Then you get back to London and Heathrow Airport where, with the exception of the newest Terminal Two with 26 plug-in points in its short stay, there are just a handful in its other car parks.
Electric cars are everywhere in Norway – as are charging points. I even drove past a pizza restaurant with a line of four Renault Zoes plugged in, ready for their nightly delivery duties.
The UK is catching up on the infrastructure front, but it seems like every other car in Norway is electric. And soon it will be; this year over 50 per cent of all new cars sold are set to be electric. It was 58.4 per cent in March. Only electrified cars will be sold in Norway from 2025. The UK Government is proposing 2040, although its own advisors and others are pushing for 2030.
That's a bold target, but for the right reasons. So how does Norway do it? Simple: consecutive governments have agreed on a range of incentives to encourage people to buy and run electric cars. They range from VAT reductions, company car tax benefits and no road tax to free parking, driving in bus lanes and lots more besides.
We need the same. All parties need to agree on consistent and generous UK incentives. Yes, it'll cost us. But it's got to be done. 
Do you agree with Steve's views on the UK's electric car future? Let us know in the comments below...