Three quarters of requests for UK driver details come from France
Fresh data shows of the 325,000 requests the DVLA received from EU countries for UK driver details, 246,000 came from French authorities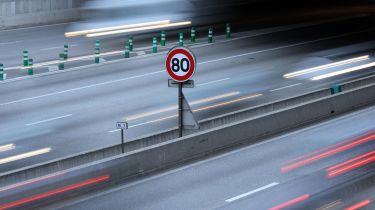 French authorities are responsible for three quarters of all the requests the Driver and Vehicle Licensing Agency (DVLA) receives from EU countries for UK driver details following traffic offences abroad, new statistics have revealed.
Countries in the European Union are able to ask the DVLA to supply them with the details of UK drivers who have broken local traffic laws when driving abroad under mutual legal assistance (MLA) rules.
The DVLA received 325,145 such requests from the whole of the EU between February and June this year, of which 246,138 (75.9 per cent) came from France. The second-highest proportion of requests came from German authorities, who contacted the DVLA just 22,845 times (7 per cent) asking for details of British licence holders. 
• France reverses decision to cut default speed limit from 90kmh to 80kmh
Italy made the third-highest number of requests (16,993) followed by Spain (13,442) and Austria (6,875). 
The data, that comes from a freedom of information request made to the DVLA by AlcoSense Breathalysers, reveals that at the other end of the scale, Finnish authorities asked for details of UK drivers just three times, Malta made just 43 enquiries, while Slovenia asked for 83 driver details.
The number of requests for driver details coming from France is almost cetainly linked to how likely the 8.56 million Brits who visit the country are  to drive there with their own car.
• Do I need an international driving permit?
But French authorities have also been cracking down on speeding and other offences in recent years, increasing the number of speed cameras, reducing speed limits, and setting even stricter speed camera thresholds than their British counterparts. The French drink drive limit is also low, at 0.5mg of alcohol per ml of blood, compared with 0.8mg in England and Wales.
Those clampdowns are, in themselves, partly a response to French road fatality rates, which stood at 64 per million residents in 2010, falling to 48 per million in 2018. The UK's rate is 28 road fatalities per million, the lowest in the EU.
• UK roads are the safest in Europe
The EU itself has encouraged member states to investigate and penalise foreign drivers with the introduction of its specialist driving offences programme STRIDER (Solutions to Reduce Injury and Death on Europe's Roads), which was rolled out across 15 member states.
It has not yet been decided whether the UK will still be tied into the current legal framework for sharing drivers' details after Brexit, but if not then the number of cross-border investigations into British motorists could decrease.
One way around this would be if the UK were to sign an 'Agreement on Mutual Recognition of Driver Disqualifications' with EU member states. Such an agreement already exists between the UK and the Republic of Ireland – it came into effect on 1 August 2017 and prevents disqualified drivers from one of the countries getting behind the wheel in the other.
Read out holiday car guide for everything you need to know about driving abroad...