'The UK car industry is floundering due to a lack of government support'
Steve Fowler thinks car bosses rather than politicians would be better suited to dealing with the struggling UK car industry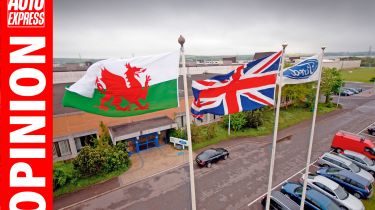 By any stretch of the imagination, it's been a miserable week for the car business. The terrible news that Ford is likely to close its plant in Bridgend comes off the back of a year of bad news for jobs in the UK's car industry. 
The UK remains a great place to build cars; the level of expertise on the factory floor remains second to none. But the lack of support the industry gets from the government is one of the main reasons this hugely important industry is floundering. 
• Consultation into expanded London 20mph speed limit launched
We've seen disappointing car sales figures this week, too: May was down 4.6%. According to Mike Hawes, boss of the Society of Motor Manufacturers and Traders (SMMT), "Confusing policy messages and changes to incentives continue to affect consumer and business confidence." It's clear where he's pointing the finger. 
Plug-in hybrid sales were down 40.6% in May, in spite of the government wanting us to go electric. We know it's not due to a lack of demand, and the SMMT agrees. "It's further evidence of the removal of the purchase incentive for PHEVs," it says.
The UK is not alone in suffering a government that doesn't know or seem to care much about the car business. The proposed FCA/Renault merger, widely accepted by all those involved and industry analysts as a good thing, has been scuppered by one of Renault's major shareholders – the French government.
What's the answer? Maybe our politicians just aren't good enough. So here's a really contentious thought: if you were to pay top politicians more, would you get better-quality people? Our prime minister earns around £150,000 – way too much anyway, many would say. But the best British business leaders earn much more. I asked one senior exec, who'd been advising the UK government (but was all too often ignored), why he didn't run the country? "I couldn't afford to take the pay cut," was the reply!
Read more thoughts and opinions from the Auto Express team here...