Engine remapping and car chipping: does it work?
Everything you need to know if you're considering engine remapping or chipping work on your car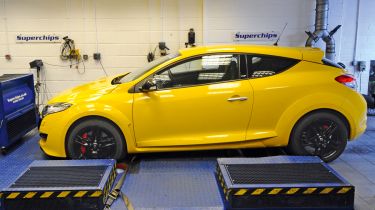 It's true that engine remaps were once the preserve of geeky car enthusiasts and the boy-racer brigade, but what was once regarded as a black and often dubious art has become surprisingly mainstream over the years.
While it still requires a degree of interest and enthusiasm to explore the remapping options for your car, the techniques employed in the field are increasingly well-understood – and the benefits of a remap are increasingly appreciated. So even if you're not fully up to speed on the remapping concept, the chances are you'll know it's a process that involves altering the software that controls how the engine delivers its performance.
Fiddling with the systems in your car's Electronic Control Unit (ECU) used to be known as 'chipping', because you literally had to swap out a factory microchip for a new one programmed by your supplier of choice. As remapping technology has advanced, the techniques have changed too. The geekiest enthusiasts these days write their own ECU programmes on readily available laptop software, and upload them via the car's Onboard Diagnostic Port (OBD). We'd never recommend that approach on a new car, as getting it wrong could be hideously expensive, but it works for the tuner brigade.
The more mainstream approach is to use remapping products and expertise from an established and reputable supplier, which may mean dropping your pride and joy off at a garage to have the work carried out for you, or ordering a device like the Superchips Bluefin.
This is a DIY unit that plugs into your car's Onboard Diagnostic Port (OBD) and will overwrite the engine map with an upgraded version in around 20 minutes – or revert to the standard factory map just as easily.
Other remapping systems include the one produced by RaceChip which adds a small extra ECU to the wiring loom and provides remote control of a range of engine map settings as you drive, either by a hard-wired rotary controller or wirelessly via a smartphone app. It may sound radical, but in fact it's little different in concept to the selectable drive mode settings provided as part of the spec by many car makers these days.
Why bother with a remap?
There are two primary reasons for wanting a remap, and they're called power and torque. When your car left the factory there's a very good chance its performance was deliberately muted in order to meet product planning objectives or economy and efficiency targets.
These days the power and performance of most cars is limited, not by any particular mechanical factor, but by the software running in the engine control unit (ECU).
Computer algorithms running behind the scenes while you're driving a modern car affect all sorts of parameters, such as ignition timing, air/fuel ratio and turbocharging boost pressure.
So if you want greater performance and pulling power from your car, or alternatively if you're seeking mpg improvements, the first place to look is the little black box under the bonnet. Here at Auto Express we receive plenty of emails asking advice about ECU software changes, and we've compiled this guide to explore the pros, cons and costs.   
Chipping turbodiesel engines can increase economy by seven to 10 per cent, because it adds torque lower down the rev range. This means the engine doesn't have to work as hard as before. It's these turbo diesel engines (often known as TDI, HDi, CDTi depending on the manufacturer) that are cornerstone of the car chipping industry because an engine chip or software upgrade can cheaply add so much to the performance.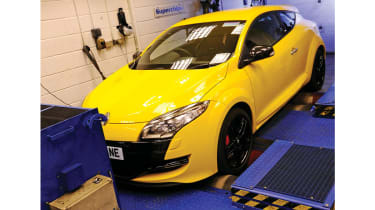 The claimed performance gains are often eye-catching, and achievable for minimal outlay on even fairly mundane cars. For example RaceChips have a range of DIY upgrades for a 2007 Ford Mondeo 2.0 TDCI starting with an extra 24bhp and 61Nm of torque for just £129.
Spend £349 and you get 37bhp, 89Nm and 'smart tuning' via the app. Got a 2014 onwards-SEAT Leon? Superchips will add 19bhp and 36Nm to the 108bhp 1.2-litre TSI model for around £350, and a quick search online reveals a multitude of suppliers offering upgrades for all manner of vehicles and manufacturers.
Are there any downsides to getting your car 'chipped'?
Some people are concerned that engine remapping could cause problems with their car. But it shouldn't affect reliability if you use a reputable company such as Superchips.
Its technical director Jamie Turvey told us: "Remapping does put extra strain on an engine, but not a dangerous amount. We check carefully that the temperatures and pressures our remaps put the engine through don't exceed the acceptable parameters."
He added that most cars' engines are built to offer more performance than they actually deliver. "You find manufacturers launch a car with a set power figure, but then over the life of the model they'll introduce a few facelifts and performance versions," he explained.
"They don't develop new engines for each new version: mostly they limit the performance of the earlier models and then offer a little more power with each new edition. We just release the optimum performance."
Obviously, you need to inform your insurer of a remap. But you may be pleasantly surprised by its reaction, according to Turvey.
"Historically, insurers would run a mile from chipped cars," he said. "Some still will, but for the most part it's very different these days. Some will just say 'thanks for letting us know'; others will have a set fee."
How much does car chipping and remapping cost?
You can almost pay what you like for engine remapping. Getting your car chipped but a reputable dealer could cost as little as £150 but from there, the sky is the limit in terms of what you can spend on more advanced parts and services.
The type of car you have will be a determining factor in the price you pay with simple chip tuning for diesel engined cars being the most affordable and specialist systems to extract more power from high performance models being the most expensive.
You can also pay to have your car tested on a rolling road so you can see the effect any ECU remapping work has had on the engine's power and torque output. Around £300 would probably get your car chipped and tested in this way and, alternatively, lots of engine tuning firms will offer a mobile service, fitting the chip at your home or place of work - for a fee. 
Have you ever had your car chipped? Were you pleased with the results? Tell us about it in the comments...