Everything you need to know about car recalls
Should you be worried when a car maker issues a recall notice?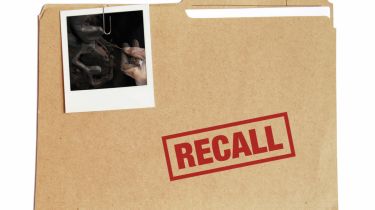 Toyota recalls, Nissan recalls, Honda recalls – it seems recalls are a part of motoring life these days. Here's our guide to all you need to know about them.
Thousands of new cars have been recalled in the past few months alone, with everyone from Porsche to Peugeot involved. But when a recall notice lands on your doormat, what should you do and should you worry? Why are cars recalled? If a particular model has a manufacturing defect that may cause a safety issue, it will be recalled.
Should I be worried?
No. In the vast majority of recall cases, they're 'just in case' recalls. The chance of your car suffering a catastrophic failure is usually very, very slim. That doesn't mean you shouldn't take a recall seriously, though – you must get the remedial work done on your car. Apart from the safety issue, you might find it difficult to sell your car if it hasn't had recall work carried out on it.
How are cars recalled?
Recalls are governed by the Vehicle and Operator Service Agency (VOSA) and are only issued when there is a genuine safety concern. When a manufacturer wants to recall a car, it contacts VOSA, which issues a recall number. It then accesses ownership data from the Driver and Vehicle Licensing Agency so that current owners of vehicles involved in the recall can be contacted.
Much as the car makers like to keep in touch with owners, as cars get sold on the manufacturers lose touch with owners – that's why the DVLA has to be involved.
Some problems with cars can be covered off by manufacturers issuing service bulletins, so dealers can carry out remedial work when a car is in for service work. However, when the problem is safety-related, nothing can be left to chance and a full recall is the only way to ensure all owners are contacted and offered the free fix.
A letter is sent to the registered owner to advise on the recall and the best cause of action. It's usually sent out within weeks of the recall notice being issued.
What should I do if I think my car has been recalled?
If you hear about a recall that you think might affect your car, contact your local dealer, check the manufacturer website or give them a call. If your car is affected, you'll receive a letter – normally within a few weeks of the recall notice being issued.
You can check on the VOSA website to see if your car has been subject to a recall notice (or if one you're thinking of buying has).
Where do I take my car to get recall work done?
You simply have to make an arrangement to take your car to a convenient franchised dealer of the make of the car you own to get the work completed. It has to be a franchised dealer – independent garages can't carry out recall work.
Do I have to pay for recall work?
Absolutely not – it should be carried out free of charge. If a dealership tries to charge you for any recall work, refuse and contact Trading Standards. Some dealers may well try to get you to undertake other work on your car when it's in for recall work – they'll see it as good salesmanship. Be on your guard and only agree and pay for work you are happy to be carried out and that you think your car needs.
Can I get compensation for recall work?
You can always ask, but don't expect any. A manufacturer is not obliged to compensate you for your inconvenience – that's just down to dealer goodwill.
Will a recall affect the value of my car?
As long as you have the work done, no. Only cars with outstanding recall work might have their values affected.
What do I do if I'm unhappy with any aspect of the recall process?
Recalls are covered by a code of practice. If you're unhappy with the process you should complain to VOSA, your local Trading Standards, Motor Codes or you can contact our Watchdog team.
Do dealers and manufacturers mind recalls?
You'd think the car makers would be running scared of recalls, wouldn't you? Well recalls don't seem to have harmed Toyota, a company that has had its fair show in recent years. Our annual Driver Power satisfaction survey shows Toyota customers are a happy bunch, in spite of the recalls. That's because, dealt with well (as Toyota has done) a recall is an opportunity for a manufacturer and dealer to leave customers with a positive impression.
There is another benefit for dealers and manufacturers. As one industry insider told us: "With extended servicing periods we don't see as much of our customers as we would like. So getting them into the showroom, even if it's because of a recall, is a great opportunity for us to try and sell them the very latest model." You have been warned!