"Car owners are being priced off the road by our 'leaders'"
Our man wants to remind David Cameron he's broken his 'friend of the motorist' promise he made in 2010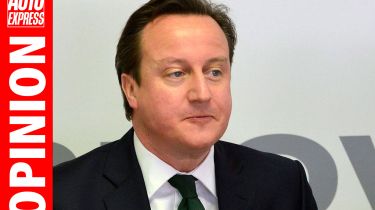 I needed to travel from outer to inner London last week for a 10-hour day in what is officially the most expensive city in the world to live and work.
The drive would have cost (for fuel, insurance, wear and tear etc) about a tenner. But then a further £11.50 in congestion tax would go to London Mayor Boris Johnson, merely for my car entering 'his' fiefdom. And local council charges of £4-£5 per hour to park kerbside would add another £40-£50. Call it £70 all-in – with only 15 per cent of that amount being the car ownership/running cost element and the remaining 85 per cent (ouch!) going to mercenary politicians and councils.  
• Queen unveils new Jaguar Land Rover engine plant
This again proves car owners are being priced off the road by our 'leaders'. And this is what forced me to travel to inner London by train. As I entered the filthy, depressing (aren't they all?) suburban station, I almost had a head-on collision with a passenger coming the other way.
Believe it or not, it was David Cameron and no, he wasn't asked to show his ticket (assuming he had one!) as he exited. Neither was he required to do what all other rail passengers do when they arrive at suburban train stations – walk, cycle, take a bus or taxi.
How come? Because the PM went one better than John 'two Jags' Prescott, by having his usual pair of Range Rovers, plus a Jag, waiting for him, with the engines running, at his station of arrival. And much to the annoyance of the local cabbies who were boxed in and unable to work, his 4x4s and limo were illegally parked with no sign of the PM likely to get any kind of parking ticket or ticking off. 
• Opinion: there's life in the old hatchback yet
As he made his way to his convoy of luxurious, thirsty, high polluting cars, I desperately attempted to remind Dave that he'd repeatedly broken the 'friend of the motorist' promise he personally made to me when I interviewed him in 2010. But his minder wisely shoehorned him into his ministerial Jag – the one he surely should have used in the first place for the short trip down from London.
Or is this a Prime Minister who requires no fewer than three posh cars, plus one train, every time he ventures from the capital to its suburbs? I hope not. That'd be setting a bad example, Dave.
Do you think it's too expensive to use a car in the capital? Let us know in the comments below...