"Most of today's young adults find it impossible to buy and run a modest car"
Excessively priced insurance is the reason first-time drivers find it so difficult to run a car, says Mike Rutherford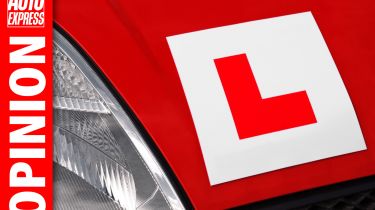 As a working-class 17-year-old in the late seventies, it was a doddle for me to climb on to the driving ladder. Around £500 (only £2,500 in today's money) paid for my licence, lessons, test, used VW Beetle, annual insurance, tax disc and a tank of petrol. Life was beautiful... man!
Wind forward a few decades, and most of today's fine young adults find it difficult, if not impossible, to buy and run a modest car – even with aid from the bank of mum and dad. This isn't progress. It's retrogression.
The biggest difference between then and now is the scandal of the modern motoring age – excessively priced insurance. Today, insurers often demand thousands per annum to cover newly qualified motorists. These kids and their parents simply don't have enough disposable income to cough up. So, understandably, the young adults don't take lessons... and can't qualify as motorists. Insurers are cruelly pricing them out of the driving seat.
Inevitably, the training industry suffers. And shortages of young car and light van drivers lead to shortages of people qualifying as truckers. The Road Haulage Association warns "shoppers could be facing empty shelves at Christmas" – because the UK trucking industry is 40,000 drivers short.
Also, supermarkets can't find enough young van drivers to deliver groceries to online customers. There are countless bus and taxi driver vacancies, too. But the insurance industry-inspired culling of would-be drivers is, in part at least, preventing these positions from being filled. It's insane.
The Government's pathetic response to the problem is to reduce the price of driving licences. Meanwhile, the unfit-for-purpose insurers have warned that their already prohibitively expensive prices are going north, not south, making the problem worse, not better. Thanks for that.
• Insurance: are your car keys covered?
It's time for drastic action. State colleges need to formally teach and offer qualifications in car driving and related subjects: JCB and fork-lift operation, chauffeuring, LCV and tractor driving, two wheeling, hazard perception, assessing transport risks, first-aid, basic vehicle maintenance and the like. These are valuable skills for life.
Armed with them, some demoralised youngsters will be far better placed to find proper jobs, earn decent salaries and hold their heads high once more. Now that's my idea of progress.
Have you been priced off the road due to high insurance costs? Let us know in the comments below...