"Again, a manufacturer states its EV can travel 50% further than it actually will"
Mike Rutherford ponders the range and price anxieties of electric cars following a drive in the Kia Soul EV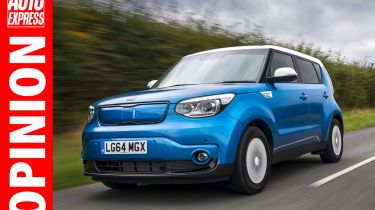 When all-guns-blazing Nissan put its 100 per cent electric Leaf on sale almost half a decade ago, the company got some things spectacularly right...and some horribly wrong. 
The car looked refreshingly different and drove well, but those positives were far outweighed by negatives. The biggest ones being that it was pricey and couldn't travel far on a single charge. 
With a list price of more than £30,000 (minus a £5,000 Government subsidy), I argued then that the Leaf was almost twice as expensive as it should have been. Worse still, despite claims from Nissan that it would – in real-world conditions – cover 110 miles on one charge, the fact is that it wouldn't, couldn't and definitely didn't. 
I asked senior folk at Nissan if an owner living in, say, Brighton really was able to do a 55-mile commute to central London and back on a single charge. The answer was a wholly inaccurate and unforgivably dishonest, yes. The fact was that its range, in typical everyday conditions, was nearer 70 miles. So why pretend otherwise? 
• "SEAT's future is bright...and you've played a significant role"
Now, almost half a decade after Nissan's ambitious range claims, Kia has got around to muscling in on the all- electric car act with its Soul EV – and, like Nissan, is getting some things right, some wrong. The Soul EV's interior design and finish exceed expectations – after all this is just a 'cheap' Korean car, right? Er, wrong. 
This is an all-electric with an official price tag of £30,000 or, after the Government subsidy, £25k. Ouch! That makes it only a few hundred quid cheaper than the BMW i3 (the 2014 World Green Car) and twice as much as the petrol-engined Soul, which starts at £12,600. Would you opt for a humble Kia when an upmarket BMW is the same price? 
Still, with Kia officially quoting a range of 132 miles for the Soul EV, it'll easily go to and through the important 100-mile range barrier, right? Er, wrong again – I managed to squeeze just 88 miles out of it. Once more we have a manufacturer formally stating that its EV will travel, on a single charge, around 50 per cent further than it will actually travel.
The Soul EV has much in common with the original Leaf. It's well designed and built, as well as being great fun to drive. But its price is too high, while its real-world range capabilities are disappointingly low.
Do you think manufacturers are guilty of overstating the range and economy claims of their cars? Join the discussion in the comments below...