Maserati Levante likely to cost around £55,000
Maserati SUV to be priced in-line with Porsche Cayenne and Range Rover Sport when it goes on sale next December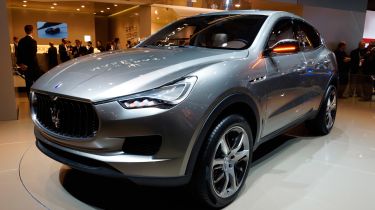 Maserati's Levante SUV is likely to cost from around £55,000 when it goes on sale in the UK towards the end of next year.
The model, will finally be officially unveiled at the Geneva Motor Show in March, but British buyers face a wait of a number of months before they can get their hands on one, with UK sales set to start next December.
And Peter Denton, region manager of Maserati North Europe, told Auto Express: "It will have a 10 per cent premium on the Ghibli in terms of starting price."
With the cheapest Ghibli costing £49,160, that means the Levante would kick off just under the £55k mark, putting it firmly in Porsche Cayenne and Range Rover Sport territory.
The company is also in the process of expanding its dealer network in the UK to cope with the expected demand, which could mean annual sales here grow to around the 3,000 mark, from a predicted total of around 1,400 this year.
Continued Denton: "We have 18 dealers at present, which will shortly become 19 and our aim is to get up to 26 as soon as we can."
Company bosses remain optimistic the Levante can propel Maserati to around 70,000 global sales by 2018.
"We want to retain the exclusivity of the brand," explained Giulio Pastore, European General Manager, Maserati.
After the Levante, attention will turn to the Alfieri Porsche 911 rival and replacements for the GranTurismo and GranCabrio.
"They will all be on sale by the end of 2018," said Pastore.