Jaguar, Kia and Renault top latest Euro NCAP tests
15 new cars tested and only four missed out on top 5-star rating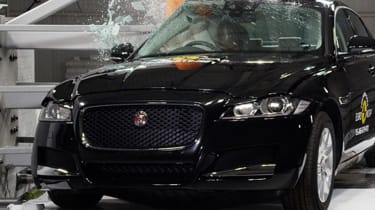 Researchers at Euro NCAP have released the latest crop of crash test results, and it's good news - of 15 new cars tested, most achieved the full 5-star safety rating.
It's somewhat unsurprising that the newest cars recieved the best rating. Jaguar's all-new XF and XE both achieved 5 stars, with remarkably similar ratings - scores were high in all areas but adult protection was a particular highlight. This is an improvement for the XF, as its predecessor only scored 4-stars - despite the test being even tougher this year.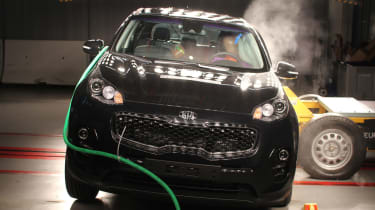 Kia fielded the all-new Optima, as well as the Sportage, which isn't available to buy just yet. Both scored top 5-star ratings too. The Sportage in particular will be particularly popular with family buyers, so safety is even more important.
Renault demonstrated it's commitment to safety particularly with the second-generation Megane back in 2002, and the new model continues that with another top rating of 5-stars. It actually achieved a higher score than its larger saloon sibling, the Talisman (which won't be making it to the UK) although this too was awarded 5-stars.
Other top-rated cars were the Infiniti Q30, BMW X1, Lexus RX, Mercedes GLC and the brand-new Vauxhall Astra.
Moving down the scale, it's a little disappointing to see that the new MINI Clubman was unable to top a 4-star rating. For a car which MINI says is it's most family-friendly model yet, we'd have hoped for a top rating. The Clubman scored highly for adult protection, but other areas were lower.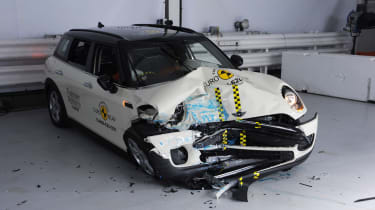 Pickup trucks aren't known for being as safe as cars in a crash, so a four-star score for the Nissan Navara is understandable, and in line with rivals. Less so is the three-star rating given to the BMW Z4. The roadster scored highly for pedestrian protection but other areas were poor, with particular emphasis given to the lack of advanced safety features fitted. This may be a six-year-old car, but BMW hasn't kept it up-to-date with the latest kit.
The Chrysler Ypsilon is no longer sold in this country, and that would seem to be a good thing, as Euro NCAP only awarded its Lancia sibling a two-star rating. That's one of the poorest results we've seen.
The older cars in this test tend to lose out when it comes to safety equipment - particularly autonomous braking, which Euro NCAP have recently started testing for. The organisation say the next step will be testing for autonomous braking that recognises pedestrians - a feature Volvo already offers.
Does safety play a big part for you when choosing your new car? Let us know in the comments...