"Without access to a car, I felt like a prisoner"
Our man Mike Rutherford gave up driving for a month and didn't much care for it...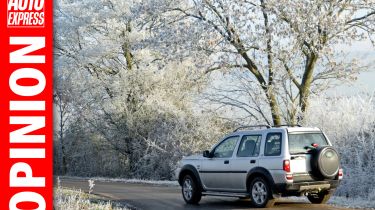 Winter proper has just arrived. Surprise, surprise, it's cold, dark, wet and windy. Arctic conditions are en route. Weather-wise, this is the season of badwill.
So what's the latest advice from Brake, the pressure group that's – increasingly, I fear – anti-motorist? Simple: "Drive less."
Put another way, walk past the taxed and insured, 100 per cent legal car that's costing you thousands per annum to own... then, er, keep walking. If you're tempted to follow Brake's 'park it, don't drive it' command, I can give you an insight into what to expect. That's because I swapped car keys for walking boots for a full month in autumn.
• "2016 will be the year of the Brit"
The positives are that I got plenty of much needed exercise, I lost a little weight, and I did my bit for planet earth. However, my feet are now beyond blistered and my back is playing up like never before. I blew almost 100 hours walking nearly 270 miles during my month on pavements. Compare that with a good day on open roads, where similar mileage is possible in four or five hours.
By walking everywhere I simply couldn't – and didn't – get to neighbouring towns, cities, countryside, beaches, sports venues, out-of-town shopping centres, you name it.
• Winter special: tips, advice and more
Without access to a car I felt like a prisoner robbed of going places, seeing things and meeting people. No car means reduced opportunities, a lack of liberty and freedom, plus unprecedented boredom.
Worse still, my almost 300 miles on foot were comparatively dangerous – largely due to inappropriately large, kerb-cutting buses, coaches, trucks, vans, street-cleaning vehicles and JCBs. The occasional taxi or car driver stepped out of line, too. As did a few folk perched on two-wheelers. Brake also fails to mention Department for Transport figures proving that (in terms of accident rates per mile covered) walking and bike riding are THE most dangerous ways to travel on Britain's pavements, paths and roads.
• "Online car buying could be exactly what we want"
Why waste precious hours walking at 3mph instead of driving at up to 70mph? Why expose yourself to filthy weather, sheer boredom, and the lack of liberty that non-car ownership (or usership) brings? And why take the risk of walking many miles on badly lit streets this cold, dark winter when car travel is considerably safer and far more effective? You wouldn't. So don't. If you have a car, use it. If you don't have one, you really don't know what you're missing.
What do you think? Leave us a comment below...