"American cars aren't as desirable as they used to be"
Cars from General Motors, Ford and Chrysler look "too American" to appeal worldwide, says Mike Rutherford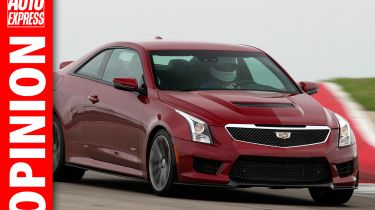 Had a good and productive day at 'the office' last week – driving and judging some of the World Car Awards nominees for 2016 in and around Los Angeles.
A handful of the contenders at this Californian Test Fest were from outside the USA. But most were from within. And cars from GM – still America's number one – dominated. How come? Becausethe cold, harsh truth is that in 2015/16, The General is putting on sale across the world far more new models than comparatively sleepy US rivals, Ford and Chrysler.
For being so active, GM deserves much praise. But while America's biggest vehicle manufacturing operation obviously doesn't have issues designing and churning out new product, it is creating problems for itself by making its cars too, er, American. 
• "America can keep its guns, but there are plenty of motoring ideas it should send our way"
I can explain. Sitting alongside GM's 'brawn in the USA' beasts at the LA Test Fest were, for example, the Volvo XC90 plus all-new versions of the Mazda MX-5 and Toyota Prius. This trio showed no visual evidence of their Swedish or Japanese origins. Instead, they genuinely looked like cars for the world – or, in the case of the deliciously bonkers Prius, a car for (and from) another planet.
Conversely, the GM/Cadillac/Chevrolet rivals they're competing with for World Car honours not only looked unmistakably American, but felt, smelt and shouted American, too. This might work for consumers in the US. But on a global scale, they don't have the same resonance.
• New Cadillac XT5 SUV revealed at LA 2015 show
In the past, when the world was a smaller place, major selling points for Caddys and Chevys were that they were big/bold, loud/proud hunks of Detroit iron. They looked, felt, drove, sounded and screamed USA, land of the free, living the American dream and all that. But that was then. And this is now. Tastes have changed. Less is very often more. Increasingly sophisticated and well travelled consumers from all corners of the globe – The Americas included – are rapidly concluding that American cars aren't as desirable as they used to be. 
• Cadillac CTS-V review
And they're not priced as well as they used to be, either. Together, the brilliant XC90 plus the scintillatingly good MX-5 at the World Car Test Fest could be bought for less money than one merely adequate Cadillac CTS-V. Such price-related madness is almost as bonkers as the insane exterior appearance of the latest Toyota Prius.
Do you agree with Mike? Let us know below...