"Online car buying could be exactly what we want"
Like Hyundai, BMW is blazing a trail in how to buy a car in the future, says Steve Fowler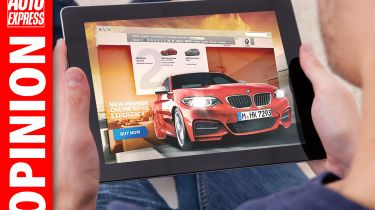 It's always worthwhile catching up with Ian Robertson – BMW's sales and marketing boss and the only Brit to sit on the company's board in Munich. For the record, he's also a former number one in the Auto Express Brit List and member of the Auto Express Hall of Fame.
Robertson is something of a trailblazer and hugely influential among his German colleagues. He played a massive part in the development and launch of BMW's 'i' brand and talks enthusiastically about the development of autonomous driving tech: "I use it every day in my 7 Series," he told me.
"At the moment we're feet off with active cruise control and briefly hands off with lane-keeping assist. Next we'll be eyes off and, finally, brain off!"
• "Hyundai has been transforming how people buy cars"
Robertson is massively excited about the future, saying next year's centenary celebrations for BMW are more about the future than the past. "We'll see more in the way of digitalisation in the next five years than we've seen in the last 100 – both in the way we make and the way we sell our cars," he said.
That last point is certainly true – Robertson used our meeting to discuss the launch of BMW Retail Online. It'll allow BMW buyers to explore, spec, order, part exchange, have finance approved and delivery arranged online in the space of just 10 minutes. And BMW Geniuses – the salaried (not on commission) product experts championed by Robertson and found in BMW dealers – will be on hand from 8am until 10pm online or on the phone to help, before passing you on to dealers.
BMW says most buyers will still visit a dealer to experience the car, although as with Hyundai's shopping centre outlets, dealers may not be in the traditional place in the future. It's all designed to make buying easier and more convenient – exactly what we want.
Do you agree with Steve? Leave us a comment below!