What is Euro NCAP? Car safety, star ratings and crash test scores explained
Euro NCAP is the independent body behind new car crash safety scores - here's everything you need to know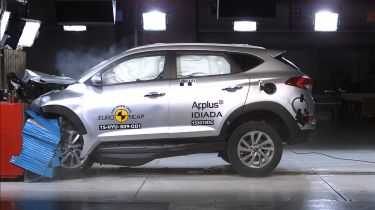 Euro NCAP, or the European New Car Assessment Programme to give it its full name, is an independent crash-test safety body, which rigorously assesses the safety of new cars, and helps to further the advancement of car safety technology.
With safety at the forefront of all car makers' minds, and many firms and organisations signing up to the 'Vision Zero' initiative - which aims to eliminate all deaths and serious injuries from our roads - Euro NCAP's test programme is an ever-evolving one, with its architects periodically updating crash-test regimes to ensure cars are assessed using the most stringent criteria possible.
The current Euro NCAP safety regime includes a dual rating, with cars tested both with and without various high-tech safety features. This means some cars may get five stars if they are configured with autonomous emergency braking, for example, but drop to four stars for the second rating if this feature is not standard.
To get a second optional star rating on a car, manufacturers just have to confirm that they expect the extra safety technology (defined as a 'safety pack') to be fitted on at least 25 per cent of models sold.
The first dual safety rating was in April 2016 for the Suzuki Baleno - the car gained a three-star safety rating for its standard safety equipment and a secondary four-star rating for the optional safety pack.
More updates were announced in May 2020, with the most significant change being a new moving, deformable barrier test that assess whether larger, heavier cars put occupants of smaller vehicles at significant risk - an idea known as 'compatibility'.
With SUVs continuing to grow in popularity, and EVs with their heavy battery packs becoming an ever-more common sight on the roads, this compatibility check is designed to ensure drivers of small hatchbacks and city cars - which continue to make up a huge proportion of new-car sales - are as well protected as possible.
At the same time as the compatibility test being rolled out, more advanced assessments of autonomous emergency braking systems were introduced, while a new £600,000 crash-test dummy called THOR (Test device for Human Occupant Restraint) is now being used in Euro NCAP tests for the first time in order to better represent how human bodies behave in collisions - an idea known as 'biofidelity'.
With manufacturers employing more active safety tech in their cars, Euro NCAP has also introduced a new set of safety tests that assess how well systems such as adaptive cruise control and lane-keep guidance work. It aims to give greater clarity to drivers in a market riddled with different system names and functionalities.
The grades given to a car's safety assist technology won't affect a car's overall Euro NCAP star rating, partly as many of these systems are optional. Instead, cars will be given a mark based on how well the systems work, and how accurately they are marketed to consumers. How effectively the systems perform when the driver overrules them by altering the car's course is also assessed, and the tech is given an overall grade of Very good, Good, Moderate, or Entry.
The three areas assessed are:
Vehicle assistance: how effectively the systems work during normal operation.
Driver engagement: how accurately systems are marketed; how well the car monitors if the driver is paying attention (EG hands on the steering wheel); how intuitive systems are; and how clear it is if the system is active or inactive.
Safety back-up: how well the systems perform if in an emergency, such as if the driver losing consciousness, if the system fails, or if a collision is about to occur.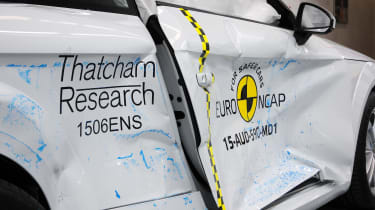 What is the Euro NCAP crash test programme?
The reassurance of a top five-star crash safety test result is a hugely important factor for anyone choosing a new or used car these days. Before 1997 though, the idea that UK car buyers could compare actual crash performance of cars and safety systems from rival manufacturers was just a pipe-dream.
The consumer-focused US administration was way ahead, setting up its own New Car Assessment Program to independently crash test cars and provide comparative results to buyers as long ago as 1979.
• Comparison sites: can motorists trust them?
Amazingly, it took the Europeans almost 20 years to catch up, and the Euro New Car Assessment Programme (Euro NCAP) was founded in 1996, with the first comparative crash tests – featuring seven of the most popular superminis – published in 1997.
At the time, carmakers were up in arms, claiming the Euro NCAP tests were unfair and much too harsh. Since then, Euro NCAP has crash tested more than 700 individual cars, and as carmakers compete for crucial star ratings, the safety tech advances have come thick and fast.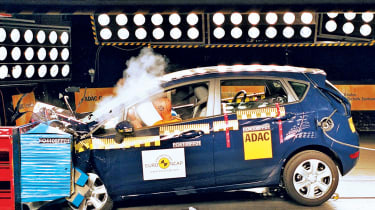 It wouldn't be fair to give Euro NCAP all the credit for the process of improving car safety, but there's general agreement its well-publicised crash test programme was a game changer, bringing safety to the forefront of consumers' minds. Euro NCAP has certainly had a significant role in improving car safety standards.
From the outset, Euro NCAP was determined not simply to measure crash safety performance, but to play a part in driving the science forward and help to save lives.
For that reason the organisation has always maintained that cars only meeting current crash safety legislation would receive a zero star rating. To score more highly, cars need to go above and beyond those basic statutory requirements.
2020 Euro NCAP updates in detail
Described as "the biggest change to Euro NCAP's impact testing protocols in a decade", 2020 saw a raft of new protocols brought in to crash tests.
The most important change is the use of a new 'Mobile-offset Progressive Deformable Barrier', which now moves at 50km/h (31mph), instead of remaining static, crashing into a car travelling at the same speed. Significant deformations to the barrier see a car marked down, as it is assumed such damage would translate into too much 'intrusion' of a smaller car in the real world, putting other road users at greater risk.
The other checks rolled out in 2020 comprise:
Tougher assessments of autonomous emergency braking (AEB) systems, with AEB now being inspected to see if it works when a car is reversing, or pulling out of a junction. Previous tests only saw AEB assessed in free-flowing road simulations.
New £600,000 THOR crash-test dummy introduced, to bring greater sensitivity and more realistically represent how human bodies behave in a collision.
An assessment of how the driver and front-seat passenger interact in a crash, with testers looking out for whether the two would injure each other in a side-impact collision.
Driver status monitoring systems are now fully assessed. These features - sophisticated versions of fatigue detection systems - check if a driver's eyes are focussing on the road, for example, and are judged vital for cars (both present and future) that require drivers to hand over and take back control to a car with driver assistance systems such as adaptive cruise control.
Tests for driver-assist technology. A new testing procedure will assess how well adaptive cruise control, lane-keep assist and other driver assist tech functions operate. Manufacturers will be marked down for inappropriate marketing of these systems, although the tests will not affect the car's overall Euro NCAP rating.
Euro NCAP tests - general overview
Euro NCAP provides crash safety scores as a percentage rating so you can compare the results between different makes and models that have taken the same tests. Ratings are awarded in each of the following four categories:
1. Adult Occupant Protection
The Adult Occupant Protection rating is based on crash scenarios that simulate frontal impact (off-set and 'head-on'), crashing side-on into a moving object, and hitting a fixed object like a lamp post or telegraph pole. Whiplash protection and the effectiveness of Autonomous Braking Systems are also factored-in.
2. Child Occupant Protection
This score is based on three factors, namely the protection provided by child restraint systems in front and side impacts, the ability to accommodate restraints of different sizes and design, and provisions within the vehicle that facilitate safe use of child seats. (E.g ISOFIX child seat anchorages, airbag deactivation systems and clear labeling of such features)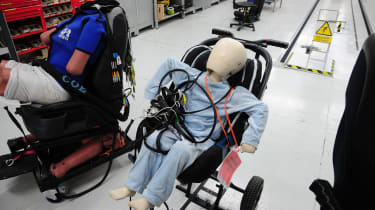 3. Pedestrian Protection
Euro NCAP determines the safety of new cars from a pedestrian's point of view by assessing the risk of injuries to head, pelvis and legs from various front-end structures including the bonnet and windscreen, bonnet edge and bumper. More points are awarded if Autonomous Emergency Braking systems mitigate the injury.
4. Safety Assist
This score is compiled from the driver assistance technologies that Euro NCAP has determined as offering the greatest safety. It monitors the inclusion of everything from seatbelt reminders to more advanced systems like Electronic Stability Control, Speed limiters and warnings, Lane Keep Assistance and Autonomous Emergency Braking.
How to compare the Euro NCAP test scores
Just as cars are evolving the Euro NCAP crash tests are regularly updated to keep pace and give the most useful results to consumers. This can create some problems when comparing cars tested under different Euro NCAP regimes.
Existing Euro NCAP crash test scores remain valid for the lifetime of the vehicle. Newer versions of a car will be introduced and re-tested but the test results of older models do not changes when the new star rating is awarded.
As results are currently configured, you can look at the overall star rating for a swift comparison between models, but also make a more detailed comparison of percentage scores in each of the four main test categories. The Euro NCAP website also provides detailed breakdowns of how those category results were determined and videos of the crash tests themselves. There are important things to remember when comparing Euro NCAP crash test results though...
When NOT to compare Euro NCAP scores
We've already described how the Euro NCAP crash tests have evolved over time, becoming more stringent and covering more ground with each change to the rules.
This means it's not always easy to make a direct comparison between cars that have undergone different versions of the tests. For example a model tested before the 2009 rule shake-up could have scored five stars purely on the basis of good scores in the impact tests. If the same model was tested under the new rules a month later, it might have scored only four stars because – for instance – it didn't feature Electronic Stability Control (ESC).
It's the same deal with cars tested before late 2020, when the latest round of assessments were rolled out. With heavy cars now penalised if they are judged to damage smaller vehicles in collisions, and stricter AEB assessments now in place, today's rules are far tougher to meet than earlier testing regimes. Comparing cars that were tested under the same assessments and sit in the same class remains valid, and is a comparison many new-car buyers make, but it's important to remember that high scores achieved on earlier versions of the test may not be replicated if the same model was re-tested today.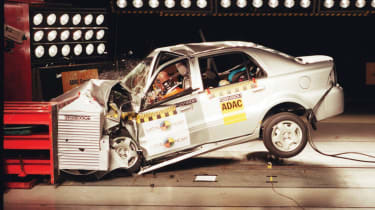 Further details on changes to the test can be found by checking the Euro NCAP website, with the organisation highlighting under which regime a car was assessed.
The 2009 changes did attract some criticism as Euro NCAP made no attempt to re-classify cars tested under the old rules so more direct comparisons could be made with models tested later. However Euro NCAP claimed consumers realised that safety technology evolves like any other, saying "our ratings are always time related, just as if you were buying a washing machine – one bought today will always be better than two years ago".
There are also details of other key changes to the tests on the NCAP website such as testing of ESC systems in 2011, rewards for fitment of Automated Emergency Braking (AEB) systems from 2014 and the introduction of the full width crash test in 2015.
The official Euro NCAP star rating 'verdicts'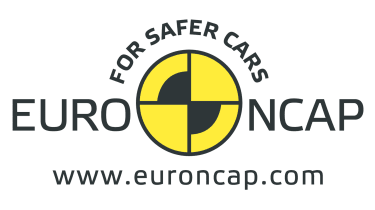 5 stars safety: Overall good performance in crash protection. Well equipped with robust crash avoidance technology
4 stars safety: Overall good performance in crash protection; additional crash avoidance technology may be present
3 stars safety: Average to good occupant protection but lacking crash avoidance technology
2 stars safety: Nominal crash protection but lacking crash avoidance technology
1 star safety: Marginal crash protection
Euro NCAP: 20 years of history and its future
There has been remarkable progress made in 20 years and it's a journey that Euro NCAP and its partners - Thatcham Research is just one of several testing bodies on the continent - are proud of.
It hasn't been smooth sailing though as originally manufacturers were against outside involvement in their industry. Matthew Avery, Thatcham's director of research, explained: "There was a lot of debate in the nineties about the need to change crash tests and it became obvious this was the best way.
"Vehicle manufacturers were encouraged to adopt crash tests but it was a slow adoption so in the nineties, the Department for Transport decided to introduce a New Car Assessment Programme (NCAP)."
It wasn't until the turn of the century that manufacturers really started to engage with it. Before then, it wasn't uncommon for makers to refuse to provide cars if they didn't want it tested or to supply cars fitted with test specific tech.
The introduction of the Mk2 Renault Laguna was a real landmark for Euro NCAP as it became the first five star car thanks to its fitment of load limiters on seatbelts and a curtain airbag as standard. Avery said: "Renault was the first one to say we can do this and sell this safety rating to the consumer."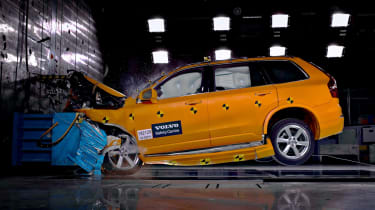 That was swiftly followed by the five star Volvo XC90 in 2002 which, after 15 years, still has no recorded occupant fatalities in its three biggest markets - the UK, US and Sweden. From this step change, new tests were introduced making it harder to achieve the five star rating but this only served to push manufacturers to make cars safer and safer. Avery added: "As vehicle manufacturers improve performance, the dummies and tests have improved. Euro NCAP is an evolution of testing as manufacturers continue to supply good safety vehicles and raise the bar."
Such is the improvement, that anything less than four stars is actually quite rare. That's why there was such surprise when the Ford Mustang was awarded just two stars last month. The result highlighted the difference between regulations across the world, as while it passed US tests, it failed to meet the top Euro NCAP requirements. Other examples of this include the 2003 Chrysler Voyager which performed well in left-hand drive tests but scored poorly when it had been converted to right-hand drive.
And while Euro NCAP doesn't want to impose its own rules on others, more global harmonisation is supported. Avery said: "Being combined would mean not just ours. The breadth of testing is good because it gives you robustness.
"For example, the UK is the foremost in collision avoidance - the AEB test was UK-designed - while Germany has done a lot of work on the offset crash that'll be introduced from 2020."
One area that already does benefit from cross-border and cross-manufacturer co-operation is Euro NCAP's frequent meetings that showcase the latest cars to be crash tested so engineers from different makers can pour over the remains to see how to make their own cars safer.
Global difference is just one challenge facing Euro NCAP and manufacturers, with big changes planned over the next five to 10 years. And already, since 2016, there's been the biggest change to the ratings since the early 2000s.
The new AEB test has been brought in alongside a two-tier rating system that gives one score for a fully-kitted out vehicle and another for the standard entry-level model. Andrew Miller, president of Euro NCAP, said it is important results are correctly advertised, marketed and explained to consumers at dealer level.
He said: "We always make five stars achievable otherwise what's the point? But it is quite a difficult balancing act.
"We were quite open-minded about the two-tier rating, manufacturers wanted it, so we will see what the future holds. It is about creating consumer information."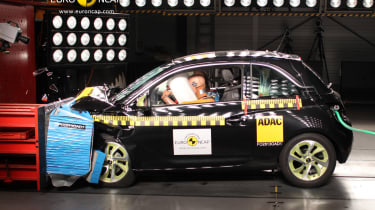 This year will also be a busy year for Euro NCAP after a quiet 2016 as manufacturers look to push through models on the current testing cycle before the latest regulations kick in from 2018. This year only 20 cars were tested but 2017 already has 42 on the books with new models from Jaguar Land Rover, Honda and Volvo.
The 2018 changes (see timeline panel) are just the start of many planned until 2020. Beyond that testing will start to focus on self-driving tests and autonomy and that's not easy as it means predicting the future of what cars will actually be able to do and what should be tested to determine how safe they are.
Ultimately, though, all of this work has one goal: to reduce the number of road users - both car occupants, cyclists and pedestrians - who die on the roads. After seeing the results of the Rover 100 crash, getting older models off the road quickly could work just as well as any new tests introduced for future models. Avery certainly agrees and said: "A scrappage scheme to buy cars fitted with AEB could stop 7,000 KSIs a year."
Whatever does happen over the next 20 years, one thing's for sure, the days of the Rover 100 and the horrifying scene simply won't be allowed to happen again. For that alone, Euro NCAP should be applauded and its 20th birthday celebrated as much as any other motoring landmark.
Euro NCAP timeline
| | |
| --- | --- |
| 1997 | First results released. Before this, all you had was crash into a wall head on with no need for a dummy |
| 2001 | Pole impact test introduced |
| 2001 | Seat belt reminder assessment brought in and Renault Laguna becomes the first five-star car in Adult Occupant Protection |
| 2003 | Euro NCAP launches Child Protection Rating |
| 2007 | First ever Europe-wide ESC fitment survey released |
| 2008 | Testing pick-ups begins and Euro NCAP releases results of first whiplash protection tests |
| 2009 | New overall star rating including Safety Assist introduced |
| 2011 | Euro NCAP begins testing electric vehicles and makes ESC tests mandatory in the star rating |
| 2014 | AEB included in the rating and safety tests on Heavy Quadricycles begin |
| 2015 | Euro NCAP introduces new full width frontal test |
| 2016 | Safety rating expanded by including AEB technology for pedestrians. Dual rating introduced as well as two new child dummy sizes in the crash tests representing a six and a 10 year old child. |
| 2020 | New tests introduced to check heavy cars don't damage lighter ones too much; AEB checks toughened up; new crash-test dummy used; driver monitoring systems assessed |
Euro NCAP in numbers
| | |
| --- | --- |
| 15000 | Number of lives saved on UK roads thanks to Euro NCAP |
| 629 | Number of models assessed by Euro NCAP since 1997 |
| 4 stars | Volvo S40 became the first four star car five months after launch of Euro NCAP |
| 9 out of 10 | Cars sold in Europe that have a star rating |
| £600,000 | Cost of new Thor dummy to be introduced in 2020 - it's been 20 years in development |
| 54,000 | Estimated lives saved over the next 20 years with AEB standard on every new car sold in the UK |
Now check out our round-up of the safest cars on sale today...