Tiny car, huge pricetag: Peel P50 sells for £120k at auction
Rare 60's microcar, the Peel P50 pulls in record sum at Florida car auction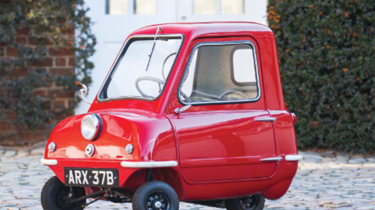 The Peel P50 is often credited as the smallest car ever made, but that hasn't stopped it raking in a massive sum of money when it went to auction on Saturday. RM Sotheby's Amelia Island Auction had the Manx microcar estimated to sell for between $75,000 and $100,000, but it blitzed through that, eventually selling for a massive $176,000 (around £120,000).
The car was the final lot of the day, and drove onto the stage to great applause. The bidding was apparently 'hotly contested', and the final sum is a world record price for a Peel P50.
The P50 is remains the only production vehicle ever built on the Isle of Man, and is also in contention for the smallest car ever built. Concieved as a project to find the minimum possible dimensions for a working vehicle, it was created as a display for the 1962 Cycle and Motorcycle Show at Earl's court. It then went into limited production, with only 50 made. Of these, 27 are still known to exist.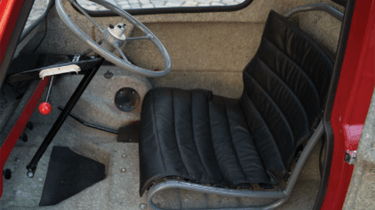 The happy buyer probably won't be doing any long distances in their new purchase – the P50 had a top speed of 38mph courtesy of its 49cc moped engine, driving one of three wheels. Simplicity was the order of the day – a single headlight was all that was needed, and three forward gears were all that was deemed necessary – should owners need to reverse, a nifty chrome handle was mounted on the rear to allow the car to be lifted and turned.
• Most expensive cars ever sold at auction
Still, 100mpg is not to be sniffed at – the Peel was advertised as 'almost cheaper than walking' upon its release.
The example seen here had been extensively restored by the Bruce Weiner Microcar museum, and is in stunning shape. Even the smallest new cars today are giants compared to this – so maybe modern car manufacturers could learn a thing or two about making a city car from Peel.
How would you feel driving a Peel P50 today? Let us know in the comments below..