Mazda SKYACTIV-X compression ignition petrol engine due in 2019
New Mazda SKYACTIV-X engine could make next-generation petrol engines as efficient as diesel units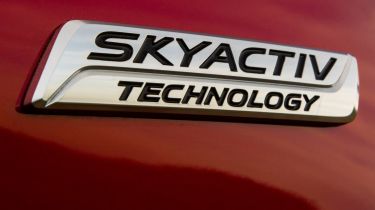 Mazda has laid out its future plans for internal combustion, revealing that it will introduce petrol engines using compression ignition in 2019. It means that Mazda is currently poised to be the first carmaker to offer the technology in a production vehicle.
Mazda claims that the next-generation engine, dubbed SKYACTIV-X, will introduce a notable power and efficiency boost over the firm's current-gen SKYACTIV-G units, which could even equal or exceed conventional diesel engines in terms of fuel economy.
In the new petrol engine, the fuel-air mixture is ignited through intense pressure when compressed by the piston as it would in a diesel engine. The engine still uses spark plugs, however – a proprietary combustion method called Spark Controlled Compression Ignition achieves a seamless transition between compression and spark ignition.
Specific details are being kept under wraps for now, but Mazda has been trailing the new engine tech in tandem with a supercharger. The firm says that compared to a comparable contemporary engine, the SKYACTIV-X unit delivers superior engine response and up to 30 per cent more torque.
The leaner burn of the compression ignition system delivers a similar 20 to 30 per cent improvement on fuel economy, when compared to current SKYACTIV-G engines.
In 2016 we spoke with Mazda Europe boss, Jeff Guyton, who said: "I think there's at least 20-30% better fuel economy by the end of the decade. We expect to achieve the [EU's] 95g/km target without any significant deployment of electrical drive."
However, Guyton didn't rule out any form of electrification in the future, with Mazda already selling a hybrid Mazda 3 in Japan that uses tech from the Toyota Prius. "We are interested in electric technology and it will be in the distant future when it will be quite important," he said. "But we think it will take some time to be commercially attractive without tax payer-funded incentives.
Mazda electric cars also on the way
Alongside the SKYACTIV-X announcement, Mazda has tentatively announced it will introduce electric vehicles from 2019 onwards. Details are still thin on the ground as Mazda still sees internal combustion as playing a key role in its future, but the firm is aiming to reduce its "well-to-wheel" carbon dioxide emissions to 50 per cent of 2010 levels as part of its 'Sustainable Zoom-Zoom 2030' plan. Production autonomous tech is tipped to debut in 2025.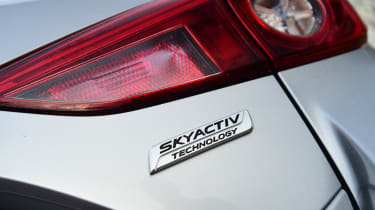 Guyton said that Governments should take a broader approach to calculating a car's CO2 output rather than just measuring what comes out of the exhaust. "Eventually somebody needs to reflect on the fact that with most electric vehicles, there's a big tailpipe – it's just not on the car, it's back in a power station some place. That might have benefits at a location, but from a CO2 standpoint we think it's quite likely we have a well-to-wheel CO2 [in our cars] that's the equivalent of an electric vehicle."
A further 30% improvement in efficiency brought about by new petrol engine technology could see cars like the Mazda 2 drop from 89g/km to as little as 63g/km of CO2 and claim well over 100mpg. The additional saving will be made by advanced engine technology and further weight saving.
"We are very passionate about weight," said Guyton. "Weight reduces driving fun and efficiency. If you can focus on weight reduction at an affordable price, the car can be more fun to drive and have fuel economy benefits.
"We think that avoiding the addition of weight and cost of hybrid systems we can bypass the two steps back and take three steps forward – we can just take one forward."
Which direction do you think will best benefit fuel economy? Let us know in the comments below...