Goodwood sculpture for 2016 honours 100 years of BMW
Legendary sculptor Gerry Judah pays tribute to BMW in its centenary year with eye-popping Goodwood piece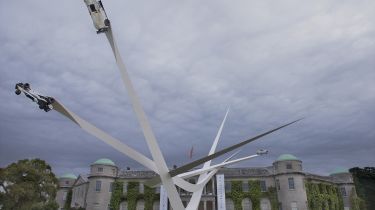 Lord March has unveiled this year's central feature at the Goodwood Festival of Speed, and it's dedicated to BMW. The German brand is celebrating 100 years as a company this year, and the whole Festival of Speed will honour that – with the gravity-defying sculpture being the biggest tribute yet.
Judah has created every central feature for Goodwood since 1997, when Ferrari were the central marque. Since then, they get bigger and better each year, with 2016's BMW feature the largest yet.
The sculpture features three stunning pieces of BMW history at the end of large steel arms. On one, is the BMW 328 Mille Miglia Roadster, on another the Le Mans-winning BMW V12 LMR and on the final one is a Brabham BT52 Formula 1 car – designed by Gordon Murray.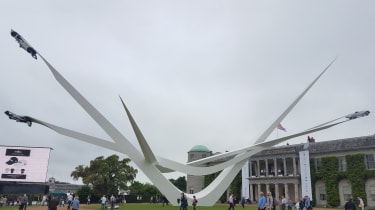 The cars were chosen due to their sporting heritage – as the FoS is a celebration of motorsport. The sculpture will be lit up by coloured lights as the sun sets, and creates a spectacular vista with Goodwood House behind it.
• BMW Vision Next 100 honours brand's centenary
BMW's contribution to the Festival will continue for the whole weekend, with the company bringing a massive portfolio including the M4 GTS and new M2 Coupe, as well as showing off the 2002 Hommage concept in the UK for the first time. The inaugural run up the iconic Goodwood hill climb will be undertaken by Lord March in a classic BMW 507.
There will also be a celebration of BMW M cars in 'M Avenue' while bikers will be treated to an array of classic and modern BMW bikes, too.
You can keep up to date with our coverage from the 2016 Goodwood Festival of Speed here...