'Philip Hammond's £1.3bn road fund buys us next to nothing'
The Chancellor's 2016 Autumn Statement promised little for motorists, but delivered even less, says Mike Rutherford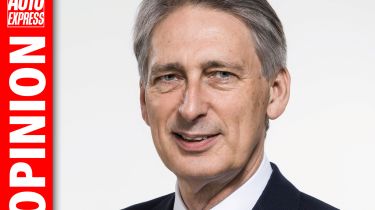 The Chancellor wasn't tempting car users with much on the eve of his 2016 Autumn Statement in the Commons. And he delivered even less. But a promise is a promise, right? On the Sunday before his Wednesday speech, some in the media were advised Philip Hammond had "£1.3billion to be targeted at improving British roads".
On that Sunday, in a TV interview, I argued a spend of £1.3bn buys next to nowt when distributed across a highway network inside or connecting 48,000 British villages, towns and cities.
Furthermore, I stated Hammond's £1.3bn represents what drivers pay to him in vehicle/fuel/road/parking/insurance taxes and duties every week or so.
So far so bad. But it gets worse, because when the Chancellor delivered his speech in Parliament, he effectively amended it and committed to "£1.1billion of investment in English local transport networks; £220million to address traffic pinch points on strategic roads".
• "Congestion could cost us £307bn - how about a ruralisation programme?"
This, it seems, is the circa £1.3bn he gave advanced warning of. But it now looks like only a fraction is guaranteed for the roads. Hammond's left the door open for most of it to be blown on "transport networks" – which I suspect will turn out to be rail/bus/tram/tube routes, cycle lanes and the like. But just as drivers and motorcyclists pay for the road space they use, shouldn't public transport travellers and cyclists be picking up the tab for their own tracks, lanes and paths?
True, Phil reckons he's got £390m to "build on our competitive advantage in low emission vehicles and the development of connected autonomous vehicles", as well as providing much needed assistance for EV recharging infrastructure, which is shambolic.
• "Isn't it time our road network was a priority too?"
But he pushed his luck when mischievously telling motorists they're about to enjoy a "tax cut" worth £850m, based on his decision NOT to raise fuel duties. That's misleading. A genuine cut would be a reduction in the duty levels we currently pay – and that ain't happening.
The final kick in the bollards? Take the biggest rip-off in modern motoring – car insurance – and make it even more expensive by hiking the tax by 20 per cent. This will force some older drivers off the road, while at the same time preventing many youngsters from getting on it – in cars that would enhance their social lives, independence and job prospects.
What did you think of this year's Autumn Statement? Leave us a comment below...