New Euro NCAP results: Five stars for new LR Discovery, four for new Citroen C3
Land Rover Discovery, Audi Q5 and Toyota C-HR SUVs put through their paces, alongside three superminis in latest tests.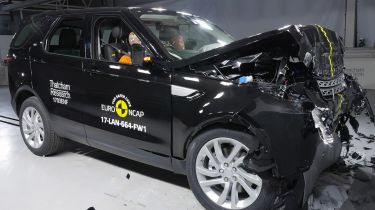 The latest batch of Euro NCAP results are in, and it's good news for motorists sizing up the new Land Rover Discovery, Audi Q5 or Toyota C-HR – all three have achieved five-star ratings in recent tests.
The new Discovery's top score wasn't flawless though, with the driver airbag bottoming out in the frontal offset test and the driver's door becoming unlatched in the side barrier examination.
A clutch of 2017 superminis have been through the mangle too, with the new Citroen C3 emerging with a four-star rating – narrowly missing out on a five-star score due to failing just short of the threshold in pedestrian protection.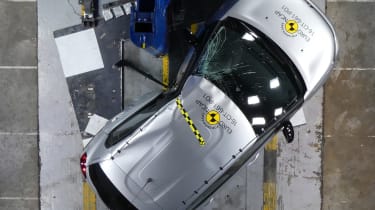 Alongside the new C3 the Fiat 500 has been tested afresh, though the stylish supermini is beginning to show its age in terms of safety. First put through its paces by Euro NCAP in 2007, the 500 – then a brand new car – received a five-star adult occupant rating. Despite receiving a facelift last year, the refreshed 500 now drops to three stars overall in the latest, tougher tests, with a 66 per cent score for adult occupant safety.
The 500's previous Euro NCAP test came under the old pre-2009 rules, and Euro NCAP itself stresses comparing old results with new is unfair. The new scoring system places more emphasis on standard safety equipment such as autonomous emergency braking, while a second rating for cars with optional safety packs is also published where possible.
Joining the new C3 and the refreshed 500, Ford's new Ka+ has been through Euro NCAP's tests. Despite being a brand new car, it gets a mediocre three-star score with standard safety equipment. Not surprising considering the Ka+ has been built with a low starting price in mind.
According to Euro NCAP's Secretary General, Michiel van Ratingen, "Consumers may be better off waiting for the all-new 500 and hope that FIAT will take the opportunity to offer a vehicle that competes on safety with its competitors, as the original did 10 years ago. Unfortunately, high hopes for the segment are smashed by Ford by releasing a brand new Ka+ with mediocre safety performance."
On a more positive note, the new C3 "shows that a respectable rating is achievable also for superminis".
Would the new Euro NCAP tests prompt you to spend more on standard safety equipment if you bought a new car? Let us know in the comments.