'Government and makers must do more to sell EVs and hybrids'
Editor Graham Hope looks at what needs to be done to encourage more people to buy EVs and hybrids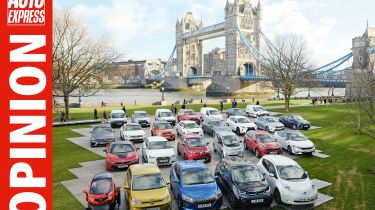 Ever considered buying an alternatively fuelled vehicle? If not, why not? As the picture above illustrates, there's more choice than ever, with 83 different models now available to UK buyers, from superminis to SUVs to vans.
It's an appropriate time to ask, as well, with diesel continuing to attract negative headlines – not always entirely fairly, in my opinion – and significant changes to the road tax banding system just a month away from being introduced on 1 April.
The new rules will have major implications for the annual tax bill for alternatively fuelled vehicles. While pure electric models will remain free, owners of hybrids and plug-in hybrids face charges for the first time.
• New VED road tax: the 2017 UK car tax changes explained
Against that backdrop, you can understand why an already sceptical public might think twice about going down the eco route. A Society of Motor Manufacturers and Traders survey found that only 13 per cent of those looking for a new car said that their next vehicle would be alternatively fuelled.
So it's hard not to disagree with chief executive Mike Hawes when he highlights the need for "ongoing government support for this new market" by way of consistent incentives and a better charging infrastructure. To that I'd add that the manufacturers themselves must do a better job of explaining the cars and their potential benefits.
I have many friends who run cars, but in no way could be described as enthusiasts, and am regularly surprised how little they know about EVs and hybrids. That's a real shame when you consider how brilliant some of the models are.
If the makers can get their message across more successfully, I'm sure the sales will follow.
Do you own an alternatively fuelled vehicle? Let us know your thoughts below...