'Why did Chancellor Hammond make taxpayers fund electric car battery development?'
Instead of forcing taxpayers to fund EV battery tech, Mike Rutherford asks why the battery industry isn't paying for it itself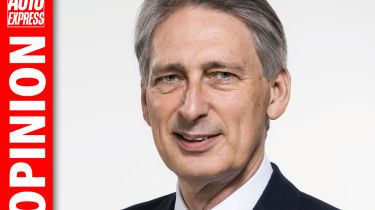 As a former Transport Secretary, Philip Hammond knows all about drivers, the vehicles they use, highways they drive and frustrations they endure. What's more, he's more aware than most that we drivers cough up £165million a day in road-user taxation (vehicles, fuel, vehicle insurance, etc), tolls, duties, levies and other iffy charges. This £60billion per annum goes direct to HM Treasury – a department he now runs as Chancellor.
I was expecting – and thankfully, heard – a largely driver-friendly Budget speech from him last week. True, he broke taxation promises previously published in his Conservative party manifesto, although he didn't give motorists the sort of brutal kicking they've suffered in the past.
• 'The Government and car makers must do more to sell EVs'
But with so many comparatively cheap and easy fixes desperately needed on the roads – pothole repairs, white line repainting, sign replacement – why instead decree taxpayers must spend hundreds of millions funding the development of batteries for electric cars? Surely the lethargic but lucrative battery industry should be paying for such improvements?
It's a similar story with the development of electric and driverless vehicles to which Hammond is committing hundreds of our millions; the motor manufacturing corporations should be working on these at their expense, not ours. The British Government couldn't (or wouldn't) stump up the cash to save Rover and Longbridge. Toyota in Burnaston and Swindon's Honda, plus others who make popular cars in Britain, are getting nowt in state hand-outs. Yet 'developers' of unconventional equivalents are being heavily subsidised. Is this fair – or legal?
• 'Why doesn't the Government issue guidance on the cars it recommends?'
The Chancellor's £690m "competition" for local authorities to tackle urban congestion is equally bonkers. If there are prizes to be had, why are they going to often 'anti-car' councils? Rewards for motorists submitting much-needed congestion solutions would be preferable, as would a road infrastructure improvement programme the Government's own research proves is desperately needed.
And why, oh why, did he further demoralise world-class Brit workers by telling us we're 35 per cent behind the Germans in productivity terms? It's an insult. And, just like the manifesto promise of "no increases" in National Insurance contributions, it's a lie.
What do you think of Hammond's budget? Let us know below...