"Driver Power has played an active role in revolutionising the car retail and repair scene"
Mike Rutherford extols the virtues of the Driver Power survey, and the forum it creates for motorists to have their say.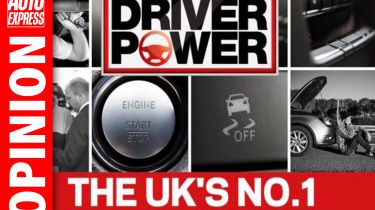 In 1988, armed with little more than a manual typewriter, Toyota MR2, mullet, and passion for most things motoring, I helped establish and launch Auto Express. Since then I've averaged at least one column, feature, road test or news story per week.
So I know a bit about the long and glorious history of what's turned out to be Britain's biggest-selling weekly motoring magazine and reigning Media Brand of the Year. Who'd have thought it, eh?
• Click here to take the 2017 Driver Power Survey
Take it from me, one of the finest and most important components of Auto Express has been – and will continue to be – its Driver Power surveys. For current or would-be motorists bothered about cars, cash and customer satisfaction (just about everyone), the Driver Power process and findings are imperative – not least because manufacturers, dealers and others fear then act on them.
I've long complained that the high street retail revolution hasn't properly filtered through to a lethargic motor trade which still has too many shoddy showrooms, service receptions and workshops. But Driver Power's stepped in to play an active, healthily provocative role in revolutionising the car retailing, servicing and repair scene.
True, we should acknowledge and applaud the best manufacturers, products and dealers. But iffy, occasionally dishonest firms, cars and garages still exist. Some stubbornly refuse to improve – and therefore deserve to be outed. We at Auto Express aren't afraid to name names. Driver Power celebrates the champs, while at the same time exposing the chumps. But we can only do this with help from you – real-world motorists who choose car companies and cars that suit your needs and budgets; who haggle hard in showrooms; who endure happy or miserable times when your vehicles are in for servicing or repairs.
Who better than you to relay the pleasant and not so pleasant consumer truths from the motoring frontline? In short, there is nobody better. Playing a valuable role in Driver Power couldn't be simpler. Just visit www.autoexpress.co.uk/driver-power and tell it like it is to us and, in turn, the car makers plus their franchised dealers. While you're at it, inform us of the best and worst aspects of your car, insurer and breakdown firm.
Driver Power is about improving the lives, cars, satisfaction levels and finances of the motoring majority. Get involved. Think like an activist.
Click here to take the 2017 Driver Power Survey for your chance to win £1,000 in Amazon vouchers.