'Diesel is under attack like never before – as are those who run their cars on it'
Are diesel cars are being unfairly demonised? Mike Rutherford thinks it's time the car industry fought back before it's too late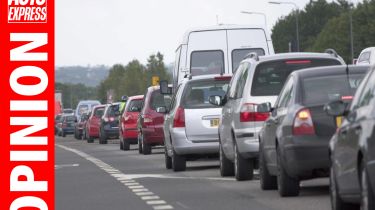 Enough is enough. Diesel cars and their drivers are being diligently demonised daily. Derv-related doom and gloom is now desperately delivered with a viciousness not previously witnessed. Some infer families who recently invested in diesels in good faith are now ending the lives of their fellow citizens, via emissions from the exhaust pipes of their 'killer' cars.
Sadiq Khan, Mayor of London and Labour's potential leader/PM in waiting, is chief assassin in the war being waged on these machines. He points the finger at the men, women and children who have the temerity to use them for day-to-day life. And he's telling them that: "London air is lethal."
• 'Diesel debate heading in the wrong direction'
Really? Is this the sort of scaremongering message London's 'leader' should be delivering? What with the ruling Conservatives contemptuously abandoning the very motorists who line the coffers at HM Treasury, and the hapless and hopeless car-loathing Lib Dems also giving the diesel car a kicking like never before, I genuinely fear for its future. Truly, it's under attack – as are the tens of millions of UK citizens who opt to run their cars on it.
The diesel-dominated UK car industry, with its annual turnover of £70billion-plus, needs to go head to head with the anti-diesel group that includes politicians to professional trouble-makers, never mind cynics with vested financial interests. A respected, high-profile, full-time, pro-diesel advocate must be employed by an organisation like the SMMT and/or Volkswagen Group now. This month. Before diesel engines and the countless production jobs they create become extinct.
• Diesel ban? New 'toxins tax' could charge diesel cars £20 to enter UK cities
I'm talking here about a pro-diesel campaigner whose sole job is to go into battle on a daily basis, defending and rescuing the diesel car. He or she has to be to diesel cars what Bob Geldof was to Live Aid, what Ali Campbell was to Blair, what Nigel Farage is to UK independence.
Loathe them or love them, these hard nuts have proven track records in campaigning furiously and effectively. The UK motor industry can't afford not to employ an equally effective individual to fight the good fight in defence of the beleaguered, state of the art, family diesel car.
The fact is, when looking at all sources of air pollution, such modest vehicles are, even collectively, minor offenders. Never forget that.
And don't allow Mayor Khan and other diesel deniers to forget it either.
Do you agree with Mike? Let us know in the comments section below...