Motor industry hits back at "false" Greenpeace emissions allegations
Society of Motor Manufacturers and Traders says accusations by environmental charity are inaccurate and misleading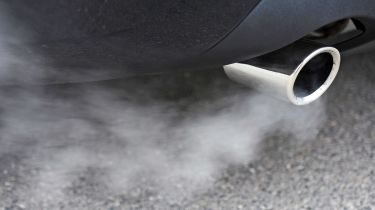 The UK's motor industry body, the Society of Motor Manufacturers and Traders (SMMT), has rejected claims that new cars sold in the country are breaching emissions standards.
A new report from Greenpeace alleges that 48 cars currently on sale fail to meet the latest Real Driving Emissions (RDE) emissions standards for nitrogen oxide (NOx). However, while the cars were found to pollute above the current 168g/km NOx limit, they were all tested before the new real driving emissions (RDE) standards were introduced on 1 September 2017. 
• Diesel ban: What next for diesel in the UK?
Greenpeace says it obtained all the results from manufacturers' own tests or those overseen by independent authorities. The charity cites the Fiat Tipo as the worst offender, producing 3.3 times more NOx than would be permissible under new guidelines, while the Renault Scenic dCi 95 produced 2.4 times more NOx than is allowed under RDE rules, and the Vauxhall Crossland X was 2.3 times over the limit.
Mike Hawes, chief executive of SMMT, called Greenpeace's statement "false and inaccurate", and accused the charity of "deliberately trying to mislead consumers". Hawes said the authors of Greenpeace's report: "fail to understand the new robust emissions tests and the timing of regulatory standards." 
Hawes went on to add that the data obtained by Greenpeace was generated during the development of the new RDE standards:
"The results published thus far have been part of the testing of this new methodology and equipment but were never intended to be used to demonstrate compliance with a test that was not yet in force."
• 'Real-world' emissions tests explained
Hawes reassured consumers that: "new cars on sale today are the cleanest in history and fully compliant with EU emissions standards." He added:
"Thanks to ongoing investment into R&D and new technologies, every new generation of vehicle is more advanced than the last, with significantly lower pollutant emissions. The new official on-road tests, which came into force in September, will demonstrate that fact, as no new car model will be allowed to be sold unless it passes them." 
Greenpeace's own report, meanwhile, admits that the least-polluting models were fitted with a selective catalytic reduction, or AdBlue, system. This technology, now commonplace on new diesel cars, squirts small quantities of a urea-based liquid into a car's exhaust fumes, bringing about a significant reduction in NOx emissions in the process. 
Writing in the charity's report, Paul Morozzo, Greenpeace's clean air campaigner, conceded that: "some manufacturers are managing to improve emissions in terms of NOx".
What do you think of the Greenpeace report? Let us know in the comments...