Brexit to make UK a "second-hand dealer" in car safety
Head of Global NCAP says leaving EU will turn Britain into a rule taker, not a rule maker, for car safety regulation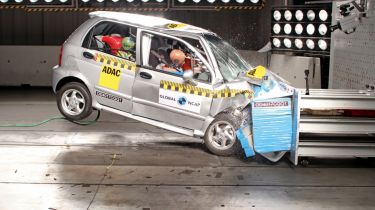 One of the world's leading car safety experts has said leaving the EU will render the UK a "second-hand dealer" in vehicle safety and emission standards.
David Ward, secretary general of the Global New Car assessment Programme (Global NCAP), has said leaving the EU will see the UK "withdrawing from a complex eco-system of vehicle regulation that has hugely improved car safety and saved tens of thousands of lives".
• Brexit offers "no advantages" to UK carmakers, say MPs
Ward - whose Global NCAP organisation promotes vehicle safety and crash-test research, and facilitates cooperation between organisations like Euro NCAP and its worldwide counterparts - wrote on his personal website that Brexit will have "profound implications for the interests of the public and our automotive industry".
The Prime Minister has previously argued Britain's membership of the UN Economic Commission for Europe (UNECE) will allow it to continue to set vehicle safety standards post-Brexit. Ward dismisses this position as displaying "woeful ignorance" though, as EU countries block-vote during UNECE ballots on new vehicle regulations.
The UNECE supervises the World Forum for the Harmonization of Vehicle Regulations, which sets regulations for vehicle type approval. Ward points out that "54 governments are parties to an international agreement for 'type approval' regulations", with 38 of them "typically" attending meetings. As 28 of these countries are members of the EU and block vote, Ward says "it is EU decision-making that underpins the adoption of UNECE regulations and not the other way around."
While he concedes that after it leaves the EU, "the UK will be free to exercise its sovereign rights to vote as it likes on new UNECE vehicle standards", Ward says such instances will constitute "a kind of 'mini-decision' to be taken alongside the 'mega decision' already taken by the EU."
Ward's comments follow warnings that EU country of origin regulations could seriously impact the UK automotive manufacturing scene post-Brexit, and echo reports that indicate the UK's Vehicle Certification Agency will automatically lose its right to provide type approval after the country leaves the EU.
Responding to Ward's comments, the Department for Transport told Auto Express that it is "committed to securing the best deal for Britain as we leave the European Union, and will work hard to ensure the UK motor industry and authorities continue to thrive and that Britain's roads continue to be amongst the world's safest."
The DfT's spokesperson added that they were confident the VCA "will remain one of the world's leading type approval authorities after we leave the European Union" and that by leaving the EU Customs Union, the UK will be "able to forge new trade relationships with our partners around the world for the first time in 40 years".
Read about the car industry's priorities for Brexit, as laid out by the SMMT…