60mph speed limit proposed on M1 to cut pollution
M1 speed limit plans are intended to ease air pollution over the city of Sheffield and will apply when pollution is highest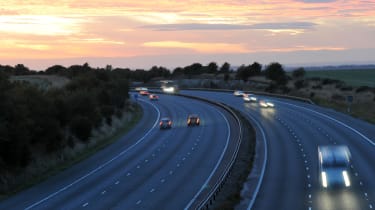 Plans have been proposed to lower speed limits during rush hour on the M1 to 60mph. The plans would throttle speed limits on parts of the motorway that pass near schools and homes, in a bid to improve air quality and reduce pollution and smog in those areas.
The planned speed limit of 60mph would be in place between 7am and 7pm between junctions 32 and 35a on the M1. It's an area which struggles with air pollution – Sheffield misses EU air quality targets, and the World Health Organisation has noted dangerously high levels of air pollution in the city.
The city's pollution problem is set to be exacerbated with plans to turn the M1 into a 'smart motorway' in the area – opening the hard shoulder to vehicles and increasing traffic volumes in the process.
• 'Clean Air' stickers to be mandatory in Paris
The worry is that the scheme will face a backlash from angry car drivers, who will face speeding tickets if they exceed the 60mph limit as they would on any other road. A spokesman for the AA, speaking to the Guardian, said: "There will be a section of car users, who will see that this is not safety related, and that they are being penalised for emissions that are likely to have come from other sources as well."
"That same section will say they pay billions of pounds in taxes… and if we're contributing that amount of money why isn't it being spent on the road network to deal with the issues?"
• Euro 6 emissions standards explained
The reduced speed limit trial is just one of several options being trialled, however. Other options include using pollutant-absorbing substances across the side of the motorway – such as special paint on the barriers or small piles of mineral polymer to absorb harmful nitrogen dioxide.
The proposal could be a response to increasing pressure from residents of Sheffield, who worry about air pollution. Clive Betts, MP for Sheffield South East, said: "Sheffield has already had to close two schools by the M1 because the pollution was so bad, but there are still many residents breathing filthy air - and there will be far more if the motorway gets busier. The government has known about this problem but has still expanded the motorway. Now it is trialling these Mickey Mouse schemes which are bound to fail."
• "The car isn't the major source of air pollution" - Mike Rutherford
The local Green Party has also launched a campaign pledging to tackle air pollution, but the DfT says it is committed to reducing air pollution and cutting emissions through green transport schemes, promoting low-emission vehicles, and clean air zones. There's no word on whether Sheffield will be one of these zones, however the city council did carry out a feasibility study in 2012 which did not lead to one being created.
Do you think speed limits should be lowered to cut pollution? Let us know in the comments below...