Safest car 2013: Euro NCAP crowns Qoros 3
Euro NCAP names its safest car of 2013, the Chinese Qoros 3, alongside other class winners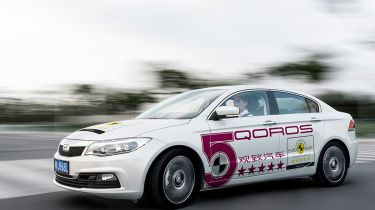 The Qoros 3 Sedan has been named as Euro NCAP's safest car of 2013. It was the highest rated of the 33 cars tested by Euro NCAP last year and the first vehicle developed in China to achieve the highest five-star rating.
The Qoros 3 saloon scored highly in all four areas with passenger safety a particular strong point. It is an impressive performance for the company which was only founded in 2007 and a huge step to challenging the traditional view that safety is a weak point for Chinese made vehicles.
Euro NCAP tests new cars and grades them based on results in adult, child and pedestrian protection and safety assist tests.
The Renault ZOE, best supermini, and the Lexus IS 300h, best large family car, were also the top all-round performers of the electric and hybrid cars tested.
The Kia Carens and Ford Tourneo Connect jointly topped the small MPV category while the Jeep Cherokee rated highest amongst small off-road 4x4s. The Maserati Ghibli was the top executive car tested in 2013.
The 2013 crash tests featured an updated assessment for child occupant protection, giving credit to manufacturers that allow for easy installation of safest child seats.
Crash avoidance systems such as Autonomous Emergency Braking and Lane Keep Assist/Lane Departure Warning tests were also added to the reformed 2013 Euro NCAP ratings.
One surprise from the yearly ratings was the BMW i3 which only scored four stars. Many had expected the new model to score five stars but it fell down on pedestrian safety.
Michiel van Ratingen, Euro NCAP Secretary General, said: "It is very positive that the number of four and five stars is still significant despite of the ever increasing requirements.
"The decision to reward collision avoidance technologies on new cars will encourage more widespread fitment and further improve the safety of all road users in Europe."