Lib Dems to offer £100m prize for best-selling low emissions car
Liberal Democrats announce £100m of taxpayer money up for grabs for manufacturers who develop new ultra low emissions cars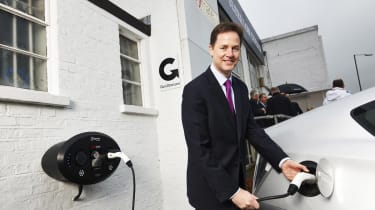 The first manufacturer to produce a low-emission vehicle that makes it into the top five best-selling UK cars would receive a taxpayer-funded £100million prize under a Liberal Democrat Government.
Deputy PM Nick Clegg unveiled the plans on his General Election campaign trail as part of the wider party strategy to ban all petrol and diesel cars from the nation's roads by 2040.
The Lib Dems want to "turbocharge" the sector and encourage manufacturers to further invest in ultra-low emission vehicles (ULEVs) and build a car that's affordable enough to become a best seller. Currently, hybrids and electric models are pricier to buy than their petrol or diesel equivalents.
The party indicated that it expected a successful model would cost around £10,000 to £15,000 and would result in lower running costs for consumers.
To classify as an ULEV the car must emit less than 75g/km and to break into the top five best sellers, the model would need to sell around 60,000 examples a year. The car which ranked fifth in 2014 was the Vauxhall Astra with 59,689.
It's a bold target with just 2.8 per cent of new cars sold registered as alternatively-fuelled cars, a total of 20,785, between January and March 2015. It shows electric cars - and hybrids - are still yet to get full public support with many concerned about range or performance.
• Opinion: "let's not forget this is a key time for the car industry"
Clegg is adamant it can be a success, though, if the Lib Dems win seats on May 7. He said: "For the first time since the 1970s, Britain now sells more cars than it buys. However, we need to go further and faster in making Britain a world leader in low emission vehicles by providing the right incentives and infrastructure to attract green investment and green jobs.
"This isn't just about re-balancing the economy, it's also about tackling dangerous levels of air pollution that reduce average life expectancy by up to eight months. Our prize fund will spark a low emission car revolution in Britain and help to build a stronger and greener economy for years to come."
Find out more about what the polictical parties would do for motorists in our 2015 election special...